A Tribute to Saleh "Gadi" Johar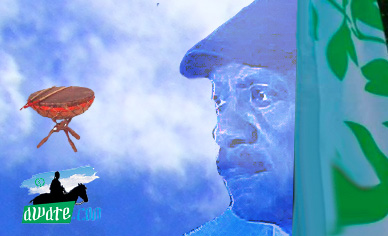 By Dr. Daniel Araya
From the onset, it's imperative for me to state the two reasons that made me undertake this write-up. Firstly, and for transparency, I have to disclose a soft spot and admiration I have for Saleh Johar .Secondly, the constant demonization and abuse to his person, understandably makes sympathy with him . I'm yet to come across many in the Eritrean cyberspace that can boast of the intensity, meticulousness, and selflessness of Saleh G Johar.
While contemplating whether to write this tribute or not, a welcome intervention came from professor Bereket Habte Selassie with a proposal for funding of the Awate media. In this regard, I would like to extend my sincere appreciation to professor Bereket who in the least, Ze'beraberena.
The learned Professor has already written glowingly about Awate and its publisher, yet. I find a compelling need to render my personal testimony about this great son of Eritrea, who epitomizes everything positive about our beloved country. I'm paying tribute, therefore, to the person whose ideas and principles have continued to profoundly impact the intellectual and emotional spheres of most of us. His significant contribution to Eritrea, his passion and desire to advance social, cultural, and political inclusiveness, has succeeded in laying the foundation of aspiring writers and thinkers alike. In my humble opinion, the center of Saleh's ideological leaning is the belief that moral rectitude should naturally form the basis of human identity.
As I read his articles and watch his Negarit YouTube channel, I observe the emphasis on moral loyalty in order to curb excessive behaviours from individuals, regardless of their philosophical and cultural backgrounds. If morality were an ideological overture, Saleh G Johar, would have been an apostle with loyal followers more than some of the so-called Wudubat. It's clear to every fair minded Hagerawi that this gentleman has made available his media platform as a theatre for patriotic action, by lending voices to those who were voiceless Eritreans, both at home and in the diaspora.
A critical evaluation of this patriot reveals his possession of high degree of temperance. With it, he has been able to tame the desire for material accumulation as clearly testified by Professor Bereket in his post. Hence, by being content with what he could afford and resisting too many offers and temptations to compromise his principles, clearly makes him stand out as tall among his contemporaries. He is unquestionably a man of high integrity who employs the power of his storytelling prowess to always take a stand on the right side of history.
Saleh is a man of passion for equality and equity, who would never succumb to any form of pressure or blackmail that goes contrary to his conscience and the core value he holds dear to his heart. I unreservedly agree with Professor Bereket, Saleh is most probably, the pioneer of a unique cyber media in the diaspora with the debut of Awate .com. Perhaps here, I might be speaking the minds of too many patriots who would rather recall, with nostalgia, prolific writers, many of them great sons of Eritrea. Of course, one would not be fair, if one forgets to mention, some among many, such as the veteran writer Dr Amanuel Hidrat and the irresistible Saleh Yunis, both intellectuals in their own right and of the best and brightest of their generation.
Without doubt. the Awate brand represents a platform that reflects a national characteristic flavour which gives a sense of belonging to all strata of the Eritrean society. By leading such a platform, he has demonstrated an extraordinary knowledge of the sensitivities of our fault lines in practical terms, unlike others who engage in deceptive public relations gimmicks. All these he achieved with hard work, perseverance, and competence.
Saleh is not only an activist and a freedom fighter, but also an accomplished essayist and novelist .If anyone has doubts about his storytelling ability, I invite you to read "OF KINGS AND BANDITS" and "MIRIAM WAS HERE".
Saleh, I dare say, you have influenced, and indeed set the bar for excellence within the Eritrean media . You have been able to fulfill this by your refined ideas, logical arguments, and most of all your level of tolerance for the opposing views which sometimes is accompanied with name-calling and outright abuse.
Those of us who read awate.com and listen to your YouTube channel are grateful for this opportunity. Your dedication and commitment to equality, fairness, and Pan-Eritrean engagement, in interpersonal connections across the various segments of our people, in my view is, what distinguishes you from others in the trade. You are a genuine Hagerawi, a novelist, an advocate for justice, a humorist, and an accidental journalist; and most of all a humanist. Adekha nay b'haqi igna welida.
Dr Daniel ARAYA 
1- Having accepted professor Bereket's challenge, I will be contacting Saleh in due course to announce my token contribution.