A Pioneer Of Education and Struggle In His Nineties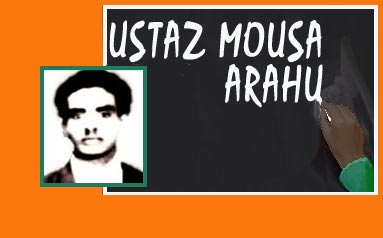 Ustaz Mousa Arahu
A young man in his thirties, a lookalike of the Egyptian actor Omar Shareef though a little shorter, vibrant, energetic, full of enthusiasm, very attractive and passionate, with radiation of hope always shining out of his face. Moreover, friendly and easy going; his talks never boring.
Though he joined Eritrean Liberation Movement (Haraka) two or three months after its formation, and thus is not considered among its founding members, his name was intertwined with the movement due to his exceptional efforts and sacrifices which constituted the brightest side of its history.
The man is the great fighter Ustaz Mousa Arahu who ignited the ember of nationalistic sentiment in our souls and impressed us with his organizational skills, humane character and charismatic leadership.
To the best of my knowledge this young man was not fluent in Tigriniya. But ironically, his circle constituted predominantly of Tigrinya speaking people who could not utter a word in Arabic, a medium he expressed himself with. His approach and body language and enthusiasm was to make sure they were understood what he was saying. He was the driving force behind their thirst and quest to learn the language he was addressing them with. Senior leaders of Haraka, the likes of Tukou Yihdeggo, Woldemichael Tekhlai, Mehari and Memhir Woldemichael started learning Arabic fromhim with great enthusiasm.
Ustaz Mousa Arahu was not an author of any philosophic doctrine nor did he preach that he had embraced any of the prevailing ideologies like socialism, democracy, he was fond of using sweet rhetoric slogans as many others did although we could easily see how he admired the Egyptian revolution and its leader as well as the other African uprisings against colonialism on those days. He was quite realistic about his people's needs and had natural skills of reading the political scene.
This is the great fighter Ustaz Mousa Arahu who played stunning roles and sacrifices in the Eritrean independence Movement "Mahber Show'atte". He was one of its prominent figures who took over the banner from the pioneers of national movement of independence and played a decisive role in galvanizing and molding the national unity to best suit the movement and preparied our people mentally thus paving the way for a long journey towards liberation and independence.
We found it too odd and disappointing that the late Mohammed Saeed Nawud did not mention the role and great sacrifices of this great figure in his book about Haraka. He did not even write a few lines about this great personality though Ustaz paid the highest price for his political stand and roles. He was deprived of his basic human right, tortured in different prisons including the notorious Dahlak prison during the Ethiopian occupation, like no other fighter ever had in all the struggle processes. Ignoring these facts about this great icon in his book raised a lot of doubt on Mr. Nawud's objectivity and put his book's credibility at stake. It even raises a question whether the late Nawud was aware of the main players in Haraka. I think Mr. Nawud depended highly on his accounts on the stories he collected from the clique surrounding him upon his return to Asmara. These people did not have key roles in Haraka nor did they have in-depth or firsthand knowledge of the Haraka's organisational structure, evolution, secrets and main players.
 His Role in Educating Eritrean Refugees
When I asked about Ustaz during my visit to the Sudan in 1977, I was told that he was living in the refugee camps where he set-up a school for the refugee community and taught the children. I also learnt that when he reached the Sudan in the early seventies, he didn't accept the late Osman Saleh Sabbe's offer to move him and his family to live in Syria as a refugee. He opted to remain in the Sudan to educate his people, and set a good example for selflessness and philanthropy.
Ustaz Mohammed Nour Dembago, a teacher at the Eritrean Community School in Jeddah, said that Ustaz Mousa is from his hometown and was the founder of the first school in their village where Arabic, Tiginya and basic French was taught.
At the time I was in Khartoum in 1977, coincidently I met Ato Tseggai Kahsai, the renowned intellectual and lawyer who came from either the USA or Great Britain. I greeted him and said that maybe he doesn't know me but that we members of Mahber Show'atte, know him, that we highly appreciate his nationalism and sympathy with our members and taking charge of Ustaz Mousa Arahu's case. He gave me a very warm greeting and told me that he wishes to meet Ustaz Mousa. He said he defended him for free as he was so struck with his solid stand and active role in Mahber Show'atte and did not confess to all the charges against him in spite of the physical and mental torture he underwent in the prisons. He mentioned some of the prisons like Dugana, Sembel, Forto Caserma  Moussolini, Tor Serawit prison at the foots of Forto, Commondos camp in Dekemhare. In all those prisons he underwent the worst types of torture, as mentioned to him by Ato Tekhlehaimanot Bokhru who was imprisoned with Ustaz Mousa in the same camp in 1968 before moving Ustaz Mousa to Nokhura in Dahlak by the orders of the then Governor of Eritrea Asrate Kassa. In spite all these, Ustaz Mousa remained firm on his principles.
I met Ustaz Mousa for a short while in Jeddah 1997 where he underwent a surgery and returned back to the Sudan. In that short meeting I jokingly told him that lies ate heard blaming Haraka for being the weakest link in the series of our people's struggle. He smiled and said this is a mere ugly fanaticism and tarnishing the reputation of the Haraka which played decisive role in shaping national interest  and distancing our people from sectarian division which preceded that period, which also infected the later stages of our struggle. Then I asked him when are you going back home to rest, he answered, I will return when our home is returned to us.
 His Visit to Eritrea
In October 1992, after the departure of the Ethiopian occupation from Eritrea, I went to Asmara from Saudi Arabia. I was very delighted to hear that our good Ustaz was also there from the Sudan. His intimate friend Saeed Yaseen could not believe what he heard and we both headed towards the Red Sea Hotel "Inda Aberra" where Ustaz was staying. Ustaz Mousa could not hold himself from delight upon seeing his old friend Saeed Yaseen who introduced me to him saying that I was one of the Haraka's youth and Ustaz replied jokingly "Ya Abu Jamal weren't we all youth then".
I asked our Ustaz if he could recall who accompanied him on a colleague's (Malik's) car to Dekemehare to meet Haraka members? He looked me straight at eyes and reminiscing the old days said, I recall a young  boy but not sure of his name, maybe Abdullah, was with us in that mission. I also reminded him that he was usually frequenting Siraj Ahmeddin's shop for traditional clothes where I used to pass by to visit a relative who was working as a tailor in the same shop. I usually saw them talking in whispers. The shop were Saeed Yaseen worked as a tailor and the shop of Hajji Yaseen Qusma'Allah were our rendezvous where we got news of the confrontations when it is impossible to meet even at the level of small cells.
I also reminded him what the late Sheikh Nouman, father of our Haraka comrade Yaseen Nouman told him when we met him at Geza Berhanu. The sheikh said: son, this country belongs to us all and freeing it from the grip of the occupiers is the responsibility of all of us, you have had enough of humiliation and torture. To which Ustaz replied, "O father, weren't you responsible for that as you used to say "Bravo Mousa" whenever I was released from prison; that encouraged me to form precedence of frequenting the prisons and couldn't give-up that practice."  The dignified Sheikh laughed and said, God bless you son.
We were always worried about Ustaz's appearance in the street along with his comrades as he never stops talking on national issues and the CID (Criminal Investigation Department) officers used to follow him in every nook and corner of the city. His spent more days inside prison than out of it. Most of the evenings we used to see him on the company of either Tuckou Yihdeggo, Mehari Debesai, Mohammed Berhan Hassen, Tekhlai Haraka or Ustaz Abi Addi, and at noon he was visited at home by Memher Weldmichael and Kahsai Bahlebbi and a number of young people and students.
He asked about a large number of members of Mahber Shew'atte. I remember he asked us about Hassen and Ahmeddin Abi Addi and if Tuckou Yihdeggo's family were still in Idaga Hamus. He mentioned how much Tuckou's mother loved him as she used to tell her son that she would be very comfortable to see him with Memher Mousa, even if he encounters any problem or is involved in any trouble.
After this we spread the word of surprise of his presence in Asmara to the rest of our colleagues and leaders, Mousa Mohammed Nour, Tekhlai Haraka, Woldenchael, Mehari Debesai, Mohammed Nour Khelifa and Ghirmai Bekhit and other members who all rushed to the hotel to see him.
He was requested by Mehari Debesai, Tekhlai Mehari and Ahmed Omer, best known as BaAaghil and others to meet the journalists who had approached them on many occasions for their quest to record the history of Haraka and its secrets. They told them that the best who could that is Memher Mousa.  Mehari said that no one but you are the right person who could give accounts on Mahber Show'atte. You were the actual founder and leader, and the most among us who sacrificed, imprisoned and tortured for this cause. With reluctance he accepted to provide them with his memories and personal notes which saw light in Eritrea AlHaditha Newspaper.
Tekhlai Haraka mentioned that Ustaz Mousa was not fanatic and ardent to his organization only but extended invaluable information and help to the Eritrean Liberation Front. He arranged for a number of the key Haraka figures in Asmara to join ELA (Eritrean Liberation Army). They were Tuckou, Afwerqi Kesselayo and Sebhat and tens of others. He also instructed his brother who came from Egypt on vacation to accompany Tekhlai Haraka, Mehari Debesai, Woldenchael and Bahlebbi and maybe a fifth member to accompany them to Egypt. Tekhlai reminded us that his brother's name was Abubakar and other three who were studying in Cairo accommodated them in AlAzhar dormitory and registered them as new inductees. He also provided the ELA with documents, photos of military sites including the air base and he was the main and prominent contact in Asmara though they had clandestine organization inside the city. This was why he was repeatedly imprisoned in the periods from 1966 to mid-1971.
Tekhlai Haraka also mentioned about Afwerqui Kesselayo and Sebhat who Ustaz arranged a guide for when they joined the ELA but Kesselayo and Sebhat retreated a year later and surrendered to the Ethiopian authorities in Asmara. Haraka members panicked upon hearing this as these two knew a lot about the internal activities of the organization. But due to the deep love and respect they had for Ustaz Mousa Arahu, they sent him message with one of our colleagues telling him that they won't do anything that would harm him. They also added that they had not betrayed their cause and national interest but they were against the acts and attitudes of the ELA leadership and the way it was managed. To be honest with the ELA they added, that they were looking for people with his leadership quality and caliber but could find none and thus opted to give-up. They said that they consider him to be symbol of nationalism and wise leadership.
After two weeks of his stay in Asmara, Ustaz felt ill and he was rushed to Dr. Silla's hospital where he was treated for about three weeks, the doctor recommended that he travel abroad to complete his  treatment. We were visiting him while in hospital and there I saw a number of cadres and historical leaders including Saleh Iyay and Hurui Tedla Bairu who paid him a visit.  After he was discharged from the hospital, myself, Ghirmay Bekhit and Hurui Tedla Bairu visited him in the hotel and we stayed with him for a little while. Hurui Ustaz's qualities, whom God has bestowed upon dynamism, determination and transparent spirit that will always stay strong and vibrant and will never succumb or surrender to diseases. He prayed for his recovery and long life.                                                                          
In 2013. I met Ustaz again in Jeddah where he was having medical check-ups. I was shocked as he looked gaunt and emaciated. It could be age and lack of health. However I was very pleased that his memory was still alive, his smile full of modesty, high spirit, still cracking jocks, as he was well known for his sense of humour. Here I remembered what Hurui Tedla Bairu said about people of his quality. I also felt that he was worried as usual with the fate of his beloved country.                            
Whenever I meet him, my memory takes me back to the old golden times of nationalism and revolution as he was the spirit of Haraka. I wished those days to return and he was in his youth, in his thirties or forties, to gather us anew, for a new revolution and to march in the streets of Asmara in his leadership to wipe away the tyranny for the salvation of our people and regain our dignity.
This is a mere reflection since Ustaz's wonderful struggle and achievements need more than an article or even a book. I appeal to our national writers and newsmen to conduct audio/video interviews with this prominent national symbol due to the uniqueness, of his career and experience, both on a personal level as well as his experience in struggle and education
My greetings to the pioneer Ustaz Mousa Arahu, who is now in his nineties, with heartfelt wishes for him to have a long, tender, healthy life.

Mdab.1947@hotmail.com  Saudi Arabia