Winds of Change… Are we ready?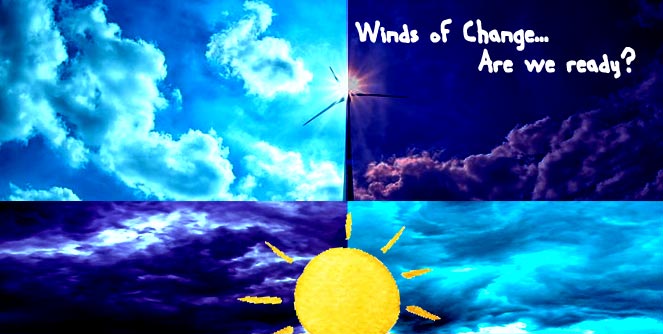 "Unity of purpose brings purposeful citizens together and accords them leverage to effect meaningful change."
A new reality is unfolding! Are we ready?
Winds of change are blowing… It appears the 20-year "no-war and no-peace" that defined the regime in Eritrea and its opposition is giving way for a new reality. The majority of our opposition (with due regard to the ELF and independents) and their platform only know this fading backdrop. A new reality is upon us! Are we ready?
We, at the justice-seekers camp, like the nation, is at a critical stage of transformation and prospects. Against the wider regional developments, this is the time we have to carve a niche that speaks for true peace which is introducing the rule of law in Eritrea, the mission we sacrificed so much, so much for over 60 years. Our voices is expected to hover above the ever-evolving machinations of bigger powers and bigger noises. Are we ready?
The undertaking is huge; so is our prospects and potential. We have to use every platform, mainstream and social media to echo the voices of the voiceless Eritreans; the victims of crimes against humanity; the implementation of the constitution. How can we get the leverage? Through…
Unity and Commitment.
Only unified and committed people invite winds of change. The recommendations refer to the justice-seekers camp, the forces of democracy.
First of all, let us bypass blame game of who was right or wrong; who won or lost. No one has won until we introduce rule of law and democracy in Eritrea.
It is time for justice-seekers to come together in a new alliance of citizens of this tortured nation that needs healing and justice. If the border issue is resolved, it is a great opportunity for us to focus on what we think of all the time: our people. The question will be about democracy and nothing else. And we are all on board on that. It is time to be prepared for the next step. It is high time to forgo our divisions and schism and focus on what unite us. I am convinced more than anytime we have an opportunity that presented itself for us to come together under the umbrella of justice.
There are no nobler souls than the members of Eritrean opposition stationed in the neighboring countries, especially Ethiopia. We have to continue to advocate for them for their safety and wellbeing.
In the issue demarcation, it is up to us to vocally impress upon both governments (especially the Eritrean government) to do the necessary adjustment to the border delineation. There is a clear miscarriage of justice in the Central zone that gave away our lands and made proud citizens of Eritrea aliens while giving us Ethiopia's lands. For peace to prevail, both governments have the responsibility to rectify the situation that has grossly disadvantaged innocent border populace.
Conserve the accomplishments. It was no mean feat to expose the regime's horrible human rights records. Crime against humanity is not a mere label but the true face of the Eritrean regime. This and other diplomatic successes will come in handy in the next phase; the domestic arena.
I can't emphasize the need of immediate rejection of all superficial divisions based on region and religion. We are all victims of one regime; and that is it.
Undivided focus on the Isaias regime. Let us pause and stop focusing on groups and individuals within the opposition. The only individuals we should focus on are Isaias and his clique. We at the justice-seekers camp have no spokesperson. We need one. No one has any constituency, or should claim so. This is the time to forge alliances and focus on the regime. Unity of purpose brings purposeful citizens together and accords them leverage to effect meaningful change.
Let us use our diversity to our advantage. Who in the opposition has met with the Kuwaitis, the UA Emirates, the Egyptians, the Sudanese? We have experienced members who can appeal to their interests.
The Ethiopian new Prime Minister is growing on all of us. He appears to be a genuine democrat and as a democrat, we have a potential ally.
"I didn't do it for you" is the mantra of the century. Regional developments define and make us, circa since 1890. We are either pawns; or puny side-kicks. We have to step-up this time. Our sacrifices from Adal to Lampedusa, shouldn't be in vain. We should be prepared to secure our voices and invite the winds of change to the nation that deserves more than anyone—our beloved Eritrea. Are we ready?
To this end, in all our cities, let us call for public meetings and come together as Eritreans and discuss the way forward.
In the unity of purpose, there lies the path of victory…
Of course, these are my personal opinion and hope to learn from others…