Will President  Sahlework Zewdie Of Ethiopia Do it?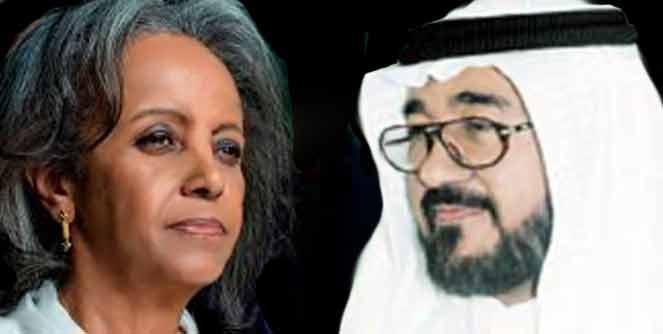 The following letter addressed to Ethiopian leaders is written by Abdulrahman Yousif, a Kuwaiti writer and a friend of Eritrea. It is translated from the original Arabic by Awate Staff.
____
I do not like to write on politics but there is a compelling reason for writing this letter to President  Sahlework Zewdie the new Ethiopian President, who won the confidence of the Ethiopian Parliament and is supported by Prime Minister Abi Ahmed, whom I respect and appreciate, especially after he lately laid down his reform directives.
What I like about the president's personality is that she is a graduate of French University, Montpellier and she speaks three languages: English, French, and Amharic. She is a child of the Foreign Ministry who has served as an ambassador to more than one country and holds honorary positions in the United Nations.
As an Arab citizen, I am proud that my Amir is a leader of humanity and today, Kuwait is the capital of humanitarian activities in the world, and my compatriots are the only forgiving people in the Arab world–we have accepted Iraq's apology for what Saddam and his clique did to us, and we have forgiven those who stood by him in his aggression, with seriousness, impartiality, and transparency based on our interests. There is no permanent enmity, but there are interests, relations, and apologies.
The personality of the Ethiopian president is eye-catching and imposes respect for her career history and her achievements. I have followed her successes that make me hopeful to propose that she, together with Prime Minister Abi Ahmed— and both are elected—to formally apologize to the Eritrean people for the era of the Ethiopian occupation. This would be a civilized step by Ethiopia towards the state of Eritrea, which in this dark period is in a dire need for such an apology.
What reinforces my request is that the new Ethiopian orientation led by the new president,  Sahlework Zewdie, who has pledged to work to promote peace, renounce violence, and uphold the values of peace!
Also, what encourages me is that Prime Minister Abu Ahmad has moved forward to the national reconciliation between the diverse Ethiopian people and internally reorganized Ethiopia, and moved abroad to lead reconciliation with Eritrea, Sudan, Djibouti, Kenya and Egypt, in a reformist attempt, thus winning the approval of his people and the neighboring peoples in the Horn of Africa.
A Blink of Light
apologies between countries is a legitimate issue and there are documented precedents in international forums. Apologies are policies of strong and effective entities that openly recognize their guilt and apologize for the transgressions of their countries
We all recall the German Chancellor Willy Brandt, who visited Poland and knelt down in front of the 1943 Warsaw uprising victims' memorial. He considered it a practical apology, without uttering the words, as what many people do.
In 2016 President Obama apologized to the Japanese people for the Hiroshima nuclear incident.
Iraqi governments apologized to the people of Kuwait for the brutal occupation by Saddam.
Germany apologized for the Hitler era aggressions.
The Australian Prime Minister's apologized to the indigenous people of Australia for the damage done to them, and thus he won the support of the two main parties in parliament.
Japan apologized to Korean women who were used as prostitutes throughout the war between the two countries.
Last words
Today Ethiopia is presenting itself as a civilized country led by a woman and other women occupy half the number of ministerial positions and an apology for the historic mistake would assure Ethiopia a secure place in history.
Conclusion
History is ruthless, and its pages are full of painful images of the Ethiopian occupation of Eritrea.
Writers and reviewers of history know that Eritrea was wronged when it was federated with Ethiopia from 1952 to 1958, and when in 1962 when Ethiopia declared the annexation of Eritrea. The Eritrean people resisted and rejected that union, which was forcibly imposed occupation by the use of tanks and guns. It was an unacceptable occupation, though Ethiopia had a slogan for it: "we will not let it part", and the Eritrean people continued to curse both Haile Selassie and Mengistu Hailemariam.
Thereafter, Eritreans expressed their rejection of the aggression as evidenced by the rebellion of Awate in the 1960s  when  he led the armed struggle where processions of hundreds of thousands of martyrs fell for the restoration of Eritrean rights and liberation–there are thousands of promising young Eritrean generations who do not know what happened in the last century to Eritrea and its people who valiantly defeated the occupation.
An advice
Ethiopia should complete all its reformist steps by apologizing to Eritrea and its people for the period of occupation, a file that is full of pain, aggression, and its victims. The apology should open the doors of hope for the return of relations on a new and correct basis that embody peace. So, will her Excellency President  Sahlework Zewdie do that? And will the dynamo prime minister, push through his reform process with a historic apology?
As an Arab from Kuwait, I wish to see such a reconciliation, apology and understanding, especially since apology is a sign of strength.
Today, the peaceful people of Eritrea deserve an apology and can't afford to do anything but only awaits to enjoy a promising life and witness the prospect of a promising future, God willing.
A true friend of the Eritrean cause
Youssef Abdul Rahman
* The author Mr. Abdulrahman Yousif is a well-known Kuwaiti writer and a loyal friend of Eritrea since the era of the armed struggle. Mr. Abdulrahman has written many articles about Eritrea and his works have greatly helped many people be aware of the Eritrean plight. He still is a loyal friend of the Eritreans people.
* Recently Her Excellency Ms. Sahlework Zewdie was elected by the Ethiopian parliament to become the president of the country. She is the first female to occupy such a high position in the history of Ethiopia. A career diplomat, last June U.N. Secretary-General António Guterres had appointed her as a special representative to the African Union and head of the U.N. Office at the African Union, replacing Ambassador Haile Menkarios of Eritrea. Previously, Ms. Sahlework served as the director-general of the UN office in Nairobi. She has also served as her country's ambassador to France and Djibouti.