Weizero Saba: Could You Whisper in Isaias' Ears?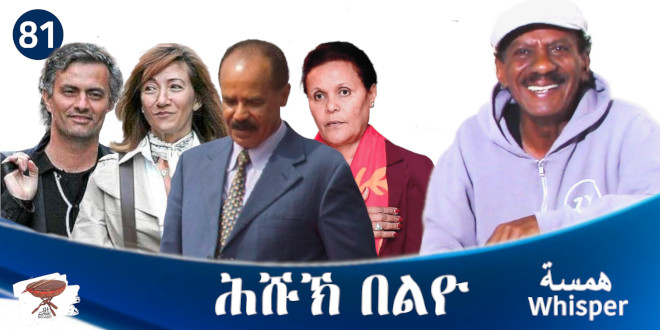 These is a source script for Negarit 81, my YouTube Channel
Intro:
Weizero Saba Haile's 50,000 Nacka and what's expected of her as the wife of the man who is chocking Eritreans.
Though news and opinions may be interesting or even entertaining, its foremost value is to equip and embolden the citizen by providing tools for critical thinking that can be translated into action that benefits citizens in their communities and their societies.
Weizero Saba Haile
50,000 is a lot of money as a fine; Eritrean parents paid that much as a penalty because their children "illegally" escaped Eritrea. Is it a lot when the first lady pays that much as a donation to fight the Coronavirus pandemic? We are told you live a spartan life even by standards of Eritrea. However, I do not know, and do not want, to depend on rumors though I can guess. At any rate, remember you are lucky. Compare your shielded life to that of the wife of Jose Mourinho, the former Real Madrid and Chelsea manager.
When a friend asked me about Mourinho, and then told him details concerning the man. In surprise I remarked, the man is not neither your father in law nor you brother in law; how would you know such details. He chastised me with a sneer, "everybody knows that except you." I felt challenged, maybe I should have known. Thanks to google, I learned the following useless tidbits:
He is a 56-year-old Portuguese and so is his 54 old wife, Matilde Faria 54.
He has two children, a daughter Matilda (23) and a son, Jose (19).
He stated his wife and children are the bosses in the house and they have a big influence on him.
Jose Mourinho has been spotted without his wedding ring!
The Sun claims he was seen twice without his ring.
On one October 10 he was pictured walking close to home in Chelsea, with no ring.
Mourinho missed a family photo as his daughter's 23rd birthday at Niagara Falls.
Matilde celebrated her birthday with her mum and brother Jose Jr, 19,
He was not pictured out with his wife since last seen at a London restaurant in February.
Jose now works as a pundit for Sky Sports,
He has a representative who answers all the trivial questions.
One Sunday morning he forgot to put his ring and his black wristwatch, (apparently, he has many colors) when he left his house at 7am.
I killed a few brain cells learning the above.
It seems Jose Mourinho, but like many husbands who play lions outside, is a mouse in front of his wife. What about Isaias? Is he a roaring lion or a mouse? But regardless, I am sure has a leverage on him.
Dear Saba, knowing the scrutiny of Mourinho's life, and being a wife of Brezidenti Isaias, you should understand why I am mentioning you. But not with a bad intention, but I thought of appealing to you to drill some sense into your husband's skull. And I will never disrespect you or wish the death of your husband, the father of your children–I am not indecent.
However, you should know I am not crazy about Isaias, how could I be! All the destruction happened under his rule. But still I want a peaceful transition from his rule to the rule of law. If not, a fate of the post dictators of the Arab countries awaits us. That means a similar fate to that of Gaddafi, or Bin Ali, or Ali Abdalla Ali. Do you advise him to stop tormenting people? Do you address whatever conscience he has left? Do you talk to him about your jailed colleagues, about the of your friends who were orphaned by him? What do you think these children are thinking and feeling, how their relatives are feeling? How do you think the children of Petros Solomon and Aster Yohannes feel? How do the children of Aster Fissehatsion and Mahmoud Sherrifo feel? What would you say to the children of Judge Mohammed Mranet, who grandchildren were born while he is in jail for close to three decades? Look, I cannot list all the victims of your husband's regime.
But you, a veteran of the struggle for INDEPENDENCE, all your life, still live in your country, and you donated 50, 000 Nackfa. But it is not money or a gesture of generosity that people want; they expect more from you. I wonder how you sleep at night! How do you feel when generations of Eritrean children grow away from their country because of what your husband and his regime does? How do you feel when Eritreans cannot even get the right to a burial spot in their country because of your husband? I am sure, you know why people wish ill for your husband, but I will tell you a personal story.
I shook hands with Isaias only once in 1991, in Asmara, at a meeting, I happened to be with someone who knew him. Then I saw him twice in Kuwait, where he boasted he his government has favored the opposition over his party's members by giving them priority in housing, jobs, etc. That was a blatant lie. My children feel sad because they couldn't visit their ancestral country—I did my part; I positively took them home in 1993 and I wished we will settle there. But no. Your husband and his government had a different plan: to keep away anyone who doesn't submit to his rule, like myself, or in jail like the thousands whose names you know better than me.
It's understandable why many Eritrean curse him every day, can you do to push some sense into his cruel mind? Please do something and help save Eritrea from the fate of other countries. Help save Eritrea from unnecessary conflicts. I say that because I am sure you do not enjoy the rumors about your husband though it reflects what many wronged Eritreans feel. I don't like it because in the Eritrea of my dream (and that of my generation), we had a picture of Eritrean citizens and rulers to be ruled by law and order. We hope the leaders will look after the interest of the citizens and in return they will get love and cooperation. Your husband failed us.
Rumors and Fake News
Rumors are paralyzing and destructive. Remember the "weapons of Mass Destruction" tugged on Iraq just before 2003, only to be disproved and disowned after Iraq was destroyed? Remember how in 2004 rumors spread discrediting John Kerry's Vietnam war record and denying he was part of the Swift boat group and that he has an illegitimate black child? How in 2008 the Birthers spread a rumor that Obama was not American born therefore not eligible to become president? These happened in the most open country with the most developed media and freedom of expression laws? Imagine what rumors does to totalitarian countries like Eritrea. Now, sadly, we have many Eritreans who willingly became tools of rumors crafted by amateurs and manipulating intelligence outfits. Many of them claimed Isais had a stroke and had returned from Saudi Arabia after being hospitalized for a few days! What happened to the process of due diligence, can't they do a little research and learn what a stroke means? No one can be cured from a stroke in four or five days; a mild stroke victim requires about four months of recovery period, if one is lucky. Otherwise, it could leave a permanent damage to the nerves, and parts of the body could be semi or totally paralyzed.
Did you see this image? It was a testimony that Weldemichael Haile was getting a blessing from the UAE in replacing Isaias. If one did a little research, the picture is from 2014 and was published by a PFDJ affiliate website here.
Only one who is a disinformation campaign will fish this picture and present it as an evidence that Weldemichael Abraha was now the president of Eritrea ad Isaias is dead.
Remember the rumor that Britain is taking its citizens out of Eritrea due to security situation in Eritrea? It is mischievously presented news cutting an alert about Corona and making it look as if the PFDJ has collapsed and Isaias is dead, and violence awaits Eritrea. And we have people who do not know they are doing damage by spreading ill-intentioned rumors. And we in the justice camp have a lot of truth on our side, we do not need to invent lies. And if some people do not believe in that, I suggest they disassociate themselves from the struggle, and leave. Just leave.
And if one is not a coward, it's fine for people to apologize if they foolishly run their mouths, not stubbornly doubling down.