Thirteen Eritrean Children Gunned Down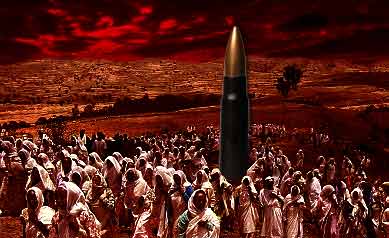 Gedab News has received reliable information that 13 children who were escaping from Eritrea were gunned down and thrown in ditches somewhere between Ghindae, Eritrea, and Port Sudan, Sudan.
The specific location of their murder is not known.
The 13 children were part of a group of 16 children who had arranged with an Eritrean trafficker to smuggle them out using the "Ghindae-Port Sudan route" out of Eritrea four months ago. Escapees do not report such incidents immediately for fear of retribution.
The Ghindae Route is one of several used by Eritreans to escape from Eritrea.
According to UNHCR, the number of Eritreans seeking asylum in Europe has tripled in 2014 over the previous year. The agency added that the number of Eritreans seeking refuge in Ethiopia in October 2014 was 5,000, a significant increase over the previous year, with unaccompanied minors also increasing, and that the number of Eritreans seeking refuge in Sudan has been about 1,000 per month.
Highlighting the dire straits the country is in, the parents of the 13 children who were murdered are mostly government officials.
One of them is a colonel in Sawa (name withheld) whose wife, a veteran of the EPLF, is in Toronto visiting her daughter. Of the thirteen children, 3 of them were their daughters, sisters aged 14, 18 and 19.
The news has roiled the city of Toronto, Canada, and Eritreans who heard the news are in a state of shock.
Our source says, "It is tragic! Father and mother, both 'Tegadelti' [veterans of Eritrea's war of independence], attempted to smuggle their three children out of a country they spent a lifetime to liberate, and all three were brutally murdered."
The fate of 3 of the 16 children is unknown. Presumably, they are the ones that confirmed the death of the 13 Eritreans they were traveling with.
It is likely that the families of the 13 children, all in Eritrea, have been notified of the death of their children and the city will once again be engulfed by grief.
We will provide you with additional information as it becomes available.
awate.com
Inform. Inspire. Embolden. Reconcile.