Position Paper – Stop All Forms of Violence Against Women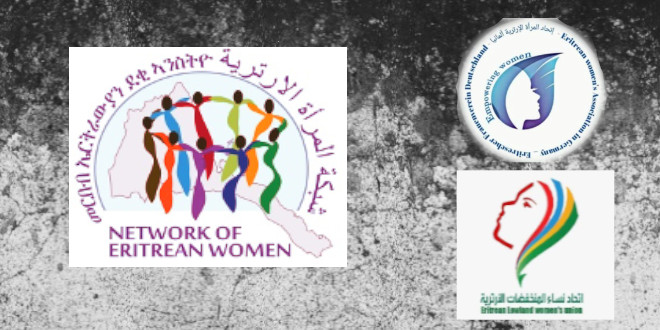 Ending violence against women is everyone's responsibility.
The Network of Eritrean Women (NEW) was founded in 2013 through the initiative of Eritrean women in diaspora. The team is driven by the need to mobilize, sensitize and empower Eritrean women and girls to claim their rights and to fight against all forms of violence.
Violence against women and girls is one of the most rampant human rights violations. According to United Nations estimates, one in three women worldwide has experienced physical or sexual violence because she is a woman. Furthermore, globally 137 women are killed daily by their intimate partners or family members. Violence is a major obstacle to women's and girls' development, and to the welfare and development of our communities and societies as a whole.
In recent weeks, NEW and other human rights organisations and activists have been approached by a number of Eritrean women from Israel, the United Kingdom and Switzerland who reported an alarming increase of incidents of violence including rape and sexual harassment especially since the beginning of the COVID-19 crisis. Some of these incidents have been committed by groups. The perpetrators are Eritrean men who act with impunity but whose identities are known to NEW.
As feminist activists, we fundamentally reject the notion that violence against women is a matter of the private sphere or of personal relationships. These hideous crimes are an obvious expression of gender inequality in our society and the general portrayal of women and their bodies as inferior to men.
We are particularly concerned that these violations continue to be committed with impunity against our sisters residing in democratic states, where some of the perpetrators live on the basis of political asylum. The institutions concerned need to make sure that individuals do not abuse this sanctuary of protection to commit fundamental human rights violations.
As a network of Eritrean women, we will not tolerate a continuation of these shameful acts. We commit ourselves to using all our networks and resources to ensure perpetrators of these hideous crimes are held accountable. We will not allow this to happen unopposed.
We ask for every Eritrean to do the followings:
Join us in condemning all forms of violence against Eritrean women and girls.
Assume responsibility to stop violence as this affects our society as a whole
Civic and political organizations need to take a stand against this and address violence against women within the various groups.
Join us in calling for an end to all forms of violence on women via the hashtag EndGenderBasedViolence#Eritrea
ኩሉ ዓይነት ዓመጽ ኣብ ልዕሊ ደቀንስትዮ ደው ይበል
ኣብ ልዕሊ ደቀንስትዮ ዝወርድ ዓመጽ ደው ምባል ናይ ኩሉ ሓላፍነት እዩ!
መርበብ ኤርትራውያን ደቀንስትዮ ኣብ 2013 ብተበግሶ ኣብ ስደት ብዝቕመጣ ኤርትራውያን ደቀንስትዮ ተመስሪታ። ኤርትራውያን ደቀንስትዮ ንመሰለን ከኽብራን ኣንጻር ኩሉ ዓይነት ዓመጽ ንኽቃለሳን፣ ኣገዳስነት ውደባ፣ ምትብባዕን ምሕያልን ደቀንስትዮ ነዛ መርበብ ክምስርታ ደሪኽወን ።
ዓመጽ ኣብ ልዕሊ ደቀንስትዮ ሓደ ካብቶም ግኑናት ግህሰት ሰብኣዊ መሰላት እዩ። ውድብ ሕቡራት ሃገራት ከም ዝግምቶ ኣብ መላእ ዓለም ካብ ሰለስተ ደቀንስትዮ ሓንቲ፣ ጓለንስተይቲ ስለዝኾነት ጥራይ ኣካላዊ ወይ ጾታዊ ዓመጽ የጋጥማ። ብተወሳኺ ኣብ ኣብ ዓለም መዓልታዊ 137 ደቀንስትዮ ብመጻምድተን ወይ ኣባል ቤተሰበን ይቕተላ። ዓመጽ ንምዕባለ ደቀንስትዮን ብዓቢኡ ድማ ንውሕስነትን ምዕባለን ሕብረተሰብ ዓቢ ዕንቅፋት እዩ።
ኣብዘን ዝሓለፋ ሰሙናት ብርክት ዝበላ ኤሪትራውያን ደቀንስትዮ ተቐማጦ እስራኤል፣ ዓዲ እንግሊዝን ስዊዘርላንድን  ብፍላይ ኣብዚ ግዜ ቅልውላው ኾቪድ 19 እናበዝሐ ዝመጽእ ዘሎ ጾታዊን ኣካላዊን ዓመጽ ዝጠቓልሉ ጥርዓናት ናብ መርበብ ኤሪትራውያን ደቀንስትዮን (NEW) ካልኦት ተጣብቕቲ ሰብኣዊ መሰላትን ሓቢረን ኣለዋ። ገለ ካብዞም ዓመጻት'ውን ብጉጅለ እዮም ዝፍጸሙ ዘለዉ። መንነት እቶም ብዘይተሓታትነት ነዞም ገበናት ዝፈጸሙን ዝፍጽሙ ዘለዉን ኤርትራውያን ደቂተባዕትዮ መርበብና በጺሓቶ ኣላ።
ከም ተጣበቕቲ ሰብኣዊ መሰላት፣ ጉዳይ ዓመጽ ኣብ ልዕሊ ደቀንስትዮ ናይ ውልቂ ጉዳይ ወይ ከኣ ከም ጉዳይ ናይ ውልቂ ምትእስሳር/ርክብ እዩ ዝብል ርድኢት ብመሰረቱ ኣይንቕበሎን ኢና። እዞም ገበናት መግለጺ ናይቲ ኣብ ሕብረተሰብና ዘሎ ጾታዊ ዘይምዕሩይነትን፣ ብሓፈሽኡ ኸኣ መርኣያ ናይቶም ጓለንስተይቲን ኣካላታን ካብ ደቂ ተባዕትዮ ኣትሒትካ ናይ ምርኣይን ምቕራብን ዝኣመሰሉ ሃሰይትን ድሑራትን መረዳእታታት እዮም።
እዞም ብዘይተሓታትነት ገበናት ዝፍጽሙ ዘለዉ ኸኣ ኣብ ዲሞክራሲያውያን ሃገራት ፖለቲካዊ ዑቕባ ሓቲቶም ዝቕመጡ ደቂተባዕትዮ ምዃኖም ብጣዕሚ የሰከፈናን የተሓሳስበናን እዩ። እዚ ዝምልከተን ትካላት፣ ነቲ ዝተዋህቦም ዑቕባ ተጠቒሞም ካልእ መሰረታውያን ሰብኣዊ መሰላት ንከይግህሱ ብጥንቃቐ ክከታተላን ስጉምቲ ክወስዳን ይግባእ።
ከም መርበብ ኤሪትራውያን ደቀንስትዮ እዞም ዘሕፍሩ ገበናት ክቕጽሉ ኣይክንገድፎምን ኣይክንጻወሮምን ኢና። እዞም ገበነኛታት ኣብ ቅድሚ ሕጊ ክቐርቡን ክሕተቱን ዘለና ዓቕምታትን መርበባትን ክንጥቀም ብዕቱብ ተበጊስና ኣለና።
ኩሎም ኤሪትራውያን ከኣ
ኩሉ ዓይነት ዓመጽ ኣብ ልዕሊ ደቀንስትዮ ኣብ ምኹናን ክሓብሩና
ኣብ ሕብረተሰብና ዝኾነ ዓመጽ ደው ንምባል ሓላፍነት ክወስዱ
ፖለቲካዊን ሲቪካዊ ትካላት ኣንጻር እዞም ዓመጻት መርገጺ ክወስዱን ከም ኣገዳሲ ዛዕባ ክዘራረቡሉን
ኩሉ ዓይነት ዓመጽ ኣብ ልዕሊ ደቀንስትዮ ደው ክብል ንምጽዋዕ #EndGenderBasedViolence#Eritrea ብምጥቃም ክሓብሩና ንጽውዕ።
መርበብ ኤሪትራውያን ደቀንስትዮ
ورقة موقفنا – أوقفوا جميع أشكال العنف ضد المرأة
مسؤولية إنهاء العنف ضد المرأة تقع على عاتق الجميع
تأسست شبكة المرأة الارترية ( NEW) عام ٢٠١٣م بمبادرة من النساء الارتريات المقيمات في المهجر. هذا و قد انطلقت الشبكة بهدف العمل على توعية وتعبئة وتمكين النساء والفتيات الإرتريات من اجل المطالبة بحقوقهن والتصدى لكل اشكال العنف.
يعد العنف ضد النساء والفتيات من أكثر الانتهاكات ضد حقوق الإنسان تعسفا وتفشياً.
وبحسب تقديرات منظمة الأمم المتحدة، تتعرض واحدة من بين ثلاث نسا فى العالم للعنف الجسدى  والجنسى لمجرد كونهن نساء. فضلا عن ذلك ، تقتل أكثر عن 137 من النساء يومياً على أيدي شركائهم الحميميين أو أحد أفراد العائلة. كما يقف العنف عقبة أساسية أمام تنمية وتمكين النساء والفتيات فضلا عن خلق عراقيل في وجه تقدم ورفاهية التكتلات الإنسانية والمجتمعات ككل.
تلقت شبكة المرأة الإرترية( NEW)   الأسابيع الماضية، وغيرها من المنظمات الحقوقية وبعض النشطاء الحقوقيين عدد من الشكاوى من نساء مقيمات في كل من اسرائيل والمملكة المتحدة وسويسرا، تشير إلى ارتفاع وتيرة معدلات العنف بما في ذلك حوادث الإغتصاب والتحرش الجنسي، متزامنة مع أزمة انتشار فيروس كورونا. وقد اُرتكبت بعض من هذه الأفعال من قبل جناة من الذكور الارتريين وهوياتهم معروفة للشبكة ولن يهدآ لنا بالا  بتقديم المجرمين الى المحاكمة وتحقيق العدالة.
أننا كناشطات نسويات نرفض مبدئياً اعتبار العنف ضد النساء مجال خاص أو مسؤولية شخصية. فهذه الجرائم البشعة تعتبر بالمقاربة مع مكانة الرجال المميز تجسيدا حقيقيا لواقع التمييز وترسيخا لانعدام المساواة والنظرة الدونية للمرأة واجسادهن فى مجتمعنا.
اننا قلقات بكل ما تعنيه الكلمة بأن هذه الانتهاكات التي تمارس ضد أخوات يقمنّ في دول ديمقراطية، لا تزال مستمرة بدون مثول بعض مرتكبى الجرائم امام القضاء. ومن المفارقات يعيش البعض منهم فى الدول الغربية تحت مظلة طالبي اللجوء السياسي.  وبهذا الصدد نحث المنظمات المعنية التأكد من عدم استغلال طالبى اللجؤ السياسى لحقوق الحماية وارتكاب انتهاكات أساسية لحقوق الإنسان.
اننا في شبكة المرأة الارترية لن نسمح باى حال من الاحوال استمرار مثل هذه الأفعال المُشينة. كما نعاهد أنفسنا على تكريس كل مصادرنا وشبكات تواصلنا لتقديم الجناة للمحاسبة كما لن نسمح بحدوث ذلك بدون التصدي له كي لا يفلت المجرمين من العقاب.
نطالب جميع الآريتريين :-
بالإنضمام والتضامن معنا في التنديد بكل أشكال العنف ضد النساء والفتيات الإريتريات
بتحمل مسؤولية التصدى لايقاف العنف ضد النساء، لما له من آثار على مجتمعنا ككل.
ندعو كافة منظمات المجتمع المدني والتنظيمات السياسية أن تأخذ موقفاً ضد العنف ضد النساء بصرف النظر عن الدوافع والمبرارات.
الانضمام إلينا بالنداء لإنهاء كافة أشكال العنف ضد المرأة بتفعيل الهاشتاقـ:
#EndGenderBasedViolence#Eritrea