Pasha René, Bezbez Kassa, Bogos, and More…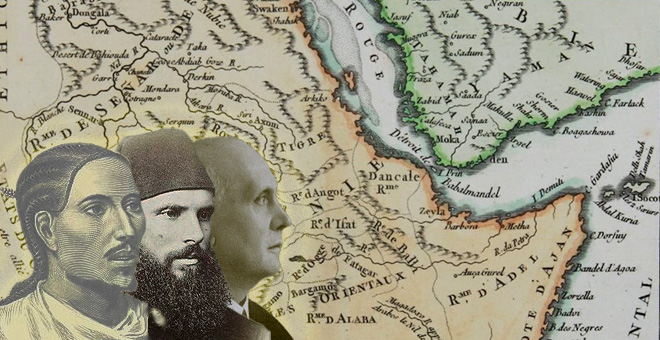 Although Italian occupation of Eritrea started in Assab and its coastal areas, it was also in Bogos and its surroundings, the turmoil that culminated with the organization, colonization, and eventual independence of Eritrea, was boiling. Around the mid-1800s, all the ingredients poured onto that region. These included, change of hand from Turkey to Egypt, the establishment of the French Lazarists, the Egyptian expansion to Bogos, Bezbez Kassa's claim to the area, Dedjaz Weldemichael's protest on the transgressions of what he considers his fiefdom, as well as an ephemeral (a few weeks) foundation of a farming colony by the French "Dedjaz" Count Raoul de Bisson at Kufit in Barea, etc. All these events deserve to be treated separately. However, the center of our interest in this article is on one obscure nomination of a foreigner to administer that region in 1868 following the fall of Tewodros II and the rise of Bezbez Kassa. The very little we know about this Frenchman and his very brief stay in Keren is a tiny historical piece of brick in the histeriography of Eritrea, but a story that deserves to be told along the events that happened around that period. We are not talking about the well-known Munzinger Pasha (ባሻይ ብሽንጅር), who similarly served kings, but by far had much more influence in the region, and other bigger events narrated elsewhere.
Since time immemorial, almost every Abyssinian king or power holding lord had foreigners at his service. Foreign adventurers, especially Europeans who entered Abyssinia, were not allowed to exit the country easily. They were retained and obliged to serve as military advisors, trainers, physicians, drogman, and functioning as a thin thread insuring the link with the foreign. Most didn't have the knowledge, ability, or training for the function, protected by "the white man always possesses a talent" belief of the Abyssinian lordship. It curiously paralleled the practice of bringing a light skinned patriarch from the sea of Alexandria.
Intolerance to foreigners developed in Abyssinia for a short period (a century and half) between the reign of Fasiledes and Teklehaimanot/Michael Suhul's as the result of the religious war with the Portuguese. Tolerance was rekindled following the visit and prolonged stay of James Bruce in Gondar. Then the visit, among others, of a knowledgeable British man, Henry Salt, along two of his companions, contributed to the growth of European interest on Abyssinia. Salt's two compatriots chose to stay behind in the country, one of whom became a typical Abyssinian (Mr Coffin) with so many wives and tens of children everywhere in Tigray and Mereb Mlash regions. More and more visitors started to visit Abyssinia, including scientific missions.
Tewodros-II accumulated many foreigners in trying to modernize his army, albeit at the end, to his demise. However, no Abyssinian king had so many varieties of wanderers, visitors, and foreigners working for him as much as Yohannes IV. He started having them when he was Bezbez Kassa, an outlaw and regional power to reckon with. It was a time Kassa and his local bards were terrorizing small or big adversaries with his raider-plunder horse-name, Bezbez. His boasting nickname was Aba Fenkel (ኣባ ፈንቅል) or the uprooter that he and his bards used in their vaunts to impress and terrorize. One went like this:
…..ወዲ ምርጫ፡ ወድኖ አባ ፈንቅል
መዳፍዕካ እምባታት ዝመቅል
መሺሉና ነይሩ ከም ስገም እንበቁል
ት'ፈረስካ (በዝብዝ) ብሱርካ ዚነቅል……. (from Conti Rossini)
Kassa started getting in contact with foreigners early on. For instance, in 1866, he went to the Catholic missionaries established in Mereb Mlash in Halay to meet the French envoy, who was passing by there to visit the pro-Dedjaz Negussie Francophile Italian prelate, Aba Di Jacobis. Denis de Rivoyre had no idea that the shrewd man (Kassa) who deliberately chose to speak hesitantly about Abyssinian politics and conversed with him in Arabic without the need of an interpreter would be Yohannes IV few years later. Such talent and behavior were signs of Kassa's ambition for a bigger role. And he succeeded in implementing it in the years that followed. European adventurers and visitors of all kind with some skill, or claiming to have, on guns, canons, and metal works as well as distinguished guests roamed Abyssinia in droves in that time, and many were attracted by him and fell for him. His collaboration with the British expedition against Tewodros-II in 1868 earned him not only fame and arms but also sprinkled him a pheromone of charm. No full description of his attire is available to know if he carried charming Amulettes (ክታብ) on his arms. He claimed to be highly religious guided by the supreme in all his walks of life, application of the Talion-law, and in his military conquests. However, the bullet he carried hanging on the Tewahdo blue cordon around his neck (ማዕተብ), says more than the cross beside it. The works on the Suez Canal and its eventual opening facilitated the overflow of foreigners towards him.
Frenchmen exceeded other nationals in Yohannes's gunmanship. There was Louis, Barralon, André, and others. One obscure among them rose to the highest ranks and files of Bezbez Kassa's quasi-wandering army, an army that could not be mustered and sedentarized or modernized by the British Dedjaz Charles Kirkham (ደግያት ካርነል).
It appears the only detail available on our Frenchy at Quai d'Orsay (French foreign ministry) was that he worked as a mechanic in Marseilles, adventured to Egypt, and ended somehow sometime in Abyssinia. Based on a rare "bibliographic" iconograph manuscript centered on Balamberas Giyorgis (a Greek, at Kassa's service), now at the French National Library, the Abyssinians used to call our Frenchman Basha Arni (ባሻይ ኣርኒ). Arni was most likely a distortion of his true French given name, René (ረነ). We will keep using René, a name by which he was known to all Europeans who met him in Abyssinia. A number among them left in writing the crunchy stories of their visit that allowed us to discover, among others, this lucky Frenchman with no surname of our interest in this short article.
It was a time when European adventurers were keen on obtaining easy money, trade, or land concessions in Africa and even established a colony. A few months into 1868, Alexandre Girard, another Frenchman, arrived in the area hoping to do some business with the British expedition. Unfortunately for him, it was too late, the British victory over Theodros II was quick, and they were already packing back to India. So, he decided to go to Bogos to visit his French Lazarist priest compatriots. Days after his arrival in Keren, there came a visitor to him. A barefoot Frenchman dressed in the Abyssinian way and with an Abyssinian title, Basha René! Basha René announced he was Kassa's representative to the area officially nominated to administrator HalHal Bogos Maria and stationed in Keren. Basha René was the first foreigner nominated by Bezbez Kassa and sent to Mereb Mlash (present Eritrea), years before the British subject John Charles Kirkham (ደግያት ካርነል) became the chief of Bet-Mekae (ቤት መኻእ) awarded fertile land around Asmara and Gindae (ጊንዳዕ) and long before Alula Engida was nominated at the head of all Mereb Mlash stationed in Asmara by the same Bezbez who became Yohannes IV this time.
Basha René has been traveling from Adwa to Keren frequently accompanied by his soldiers. That time, he came straight from Adwa, accompanied by around a hundred soldiers and their families. His chief mission in his new administration was to collect the usual debilitating taxes from the poor inhabitants of the area and presumably in demonstration of Kassa's plan to counter the Egyptian incursions. It was an area where French Lazarist missionaries were well established. Kassa might have thought a French administrator would facilitate the control of the population and a region with French influence then. However, Basha René was not calm within himself. His was eying Dedjaz Welde-Michael's move. Kassa's undermining of the Mereb Mlash notables started then, in that he failed to notify the strong man of the region (Welde-Michael), who was not happy about it and threatened to run over the region he considered his own fiefdom. Therefore, Kassa allowed Basha René to return permanently to Adwa along with the new French guy in the region. Kassa didn't lose time, and immediately wrote a letter inviting Alexandre Girard to come to Adwa for Meskel. Basha René was happy to be relieved of that duty and started shortly trotting back to Adwa with his wife Mme Trungo, her two-fighting servant sharing the same man, with Basha René and the hundred soldiers and their families. Girard's description of the walking convoy and their travel to Adwa and Basha René's life there are interesting stories apart, for those interested. Just only to mention, upon arrival in Adwa Basha René was immediately promoted to Fitewrari (Fiterari in the local parlance), provoking an unbound jealousy in his circle of friend (Kassa's circle).
In the above paragraphs, we have seen some varieties of grains from the Eritrean history-silo that accumulated in the 19th century in Mereb Mlash. Like in many parts of our world, Gun-given privilege allows the powerful to distribute titles, right, and assign invaded land to whoever, wherever, whenever one wants. The Mereb Mlash land in that period was particularly prone to such practices. Bezbez Kassa/Yohannes IV was distributing titles and giving fertile land to his foreign recruits and his provincial lords, as we have seen above. Egypt was forcing herself from the north, east, and west. The briefly mentioned (other Frenchman), self-proclaimed Dedjaz, Comte Raoul de Bisson, who claimed having a firman from the Egyptian Pacha, briefly installed himself in the middle of Barea-land in the wild fertile place near rivers known as Kuffit, to be removed weeks after by Moussa Pacha of Sudan. Though not explicitly mentioned (alluded), the pro-France religious missionaries in Keren and Halay discretely worked to facilitate land concessions to France working with Negussie or any other lord who can place his seal of agreement. But finally, Italy came in 1885 and took it all in a foxy way, forming Eritrea in 1890, a country we, its inhabitants are proud of. A country that hasn't yet found the normality and tranquility it deserves.
As to any possible history on Basha René's short stay in Keren, it is left to the Kerenite readers to come up with some orally transmitted story they might have heard.
References :
Alexandre Girard, Souvenirs d'un voyage en Abyssinie 1873
Georges Malécot, Les voyageurs français et les relations entre la France et l'Abyssinie. 1971
Douin, Histoire du regne du Khedive Ismail. 1938
Anais Wion, Un Grec en Ethiopie a la fin du XIXeme Siecle, le balanaras Giyorgis, 1999
Denis de Rivoyre, Mer Rouge et Abyssinie 1880
Raoul du Bisson, Les Femmes, les eunuques et les guerriers du Soudan. 1868
Conti Rossini, canti popolari Tigrai, 1902
Michael Ghaber, the Blin of Bogos. 1993. A good general reference on Bogos and the region.