Mahmoud Kannoni: Rest In Peace My Great Teacher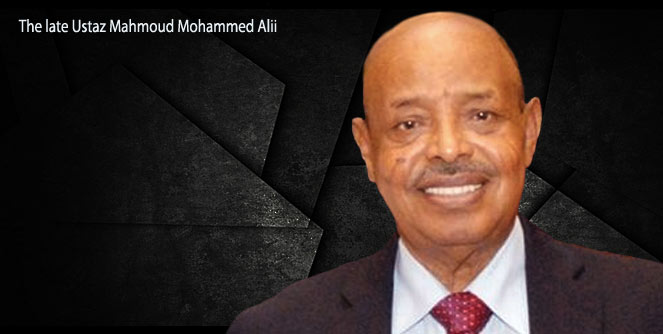 A bright educator has passed away. A great teacher who left his marks on our personalities has passed away. Ustaz Mahmoud Mohammed Ali has died. May he rest in peace.
Almost sixteen years had passed when I visited Ustaz Mahmoud in his house in Abu Dhabi together with my late friend Sheikheddin Yassin. He didn't change as much as I imagined him despite the long years since the days when I left Keren,. However, I expected to see his wry smile, his trademark smile that left students wondering if he was mad, or felt sorry for their foolishness, or it was just his way of wearing a blank face.
Ustaz Mahmoud had a visible contempt for mediocrity and he didn't expect anything less than excellence from his students. As a student, however good you felt you were, Ustaz Mahmoud reminded you it was not enough. There was room for some more.
Though he was the school director—a role all students considered his other job—he was seen as a no-nonsense teacher and an excellent educator. Unfortunately for the other teachers, he set the bar so high, students measured them on the Ustaz-Mahmud-Kannoni yardstick. And he stood almost alone on top of that yardstick, towering over the rest. All teachers strived to stand with him at the same level, and thus he elevated the school to new heights. He inspired the students and teachers to excel, forming a vibrant school environment that all students remember with great fondness.
Another fifteen years later, I visited him at his residence in Cypress, California. This time I tried hard to conceal my shock: my fast walking teacher was using a cane! I remembered him as a fast pacing man, with legs that seemed as if borrowed from a tiger. I avoided looking at the cane and instead looked at his eyes, and his smile, all the time wondering: Did I let him down, or I didn't?
As we chatted, he spoke softly and assured me I was okay in his eyes. Yes, it meant a lot to me. if I was a soldier, I would want Ustaz Mahmoud to be my commander. As a young boy, I was lucky he was one of my teachers—and more than that because he was a friend of my father. In fact, I used to boast that I took my first driving test with his blue VW beetle. He had called Ustaz Ahmed to get the car from his house and drive me to the testing area—I passed the test and took my license. But soon I left Keren with most of my peers, and I have no idea where the license ended up. But for a brief time, I boasted a lot. How many people can claim to have driven Ustaz Mahmoud's car? None.
I could write tens of pages about Ustaz Mahmoud, and I dedicated a big chunk of my book, "Of Kings and Bandits" to stories about Ustaz Mahmoud or stories inspired by him. He was the educator who inspired me to be curious—to look for knowledge, even in newspapers that I should fish out even from "Gumama", out of a trash bin. I have done that in so many ways, though the trash dump in Keren didn't have any written materials.
The following is a brief portrayal of Ustaz Mahmoud, from my book "Of Kings and Bandits".
The integration of boys and girls wouldn't have been smoother if not for the efforts of the overly ambitious school director who wouldn't settle for mediocre education. Students waited eagerly for a chance to have the director cover for absent teachers. They raced to his office if a teacher didn't show up—he followed a policy of first-come-first-served. Once he lectured on evolution and the students listened in disbelief. He pointed to a girl and said, "The lizard is your cousin." The girl was so offended she cried.

The director repeatedly said, "I was born in Chaeda Krukh," a tiny village in the outskirts of Keren. Jemal took that as a gesture to some dedicated students who walked long distances from the countryside to attend school. It might have been his attempt to boost the self-confidence of those students while at the same time chip away at the empty pride of town dwellers who looked down on villagers… That year Janhoi visited Keren.
I feel sad I didn't get to see him for a year before he died. And I feared talking on the phone could be taxing to his health, I rarely called him. However, I blame myself and human complacency—we don't think death comes unannounced. And it did come unannounced to snatch Ustaz Mahmoud.
May his soul rest in peace, and may his family and relatives have solace remembering the crowds of his students, some of whom have attained high educational credentials, some were heroes who fell in the line of duty, in the pursuit of freedom. While others remain true to the ideals he inculcated in us. Still, others who have become fathers and grandfathers, many of them successful in their lives. I am sure his brothers, and children would be content and thank God that he lived a proud man and died as one.
My condolences to Kerrar, Hamid, Fouzia, Jemal, Khalid, and his children, Ahmed, Salah, and Dr. Samia… and their younger siblings whom I haven't met.
Farewell, my dear beloved teacher.