List of Elected Leaders of the ENCDC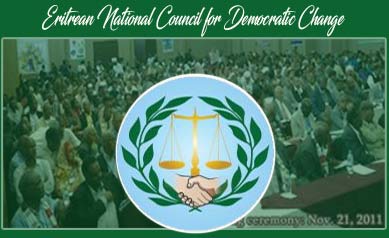 Between April 14-15, 2019, the Eritrean National Council for Democratic Change (ENCDC) held its second congress meetings in Sweden. It concluded its meeting by electing the secretariat of the central leadership with Tekhlai  Abraha as its president, Mohammed Sheeb, vice president, Fessahaye Hagos as secretary, and Negash Osman as the chairperson of the executive committee.
The secretariat has the highest authority in the 61-member ENCDC leadership.
The ENCDC was stationed in Ethiopia since it held its first congress in 2012, in the city of Hawassa. However, it couldn't hold its second congress  due to many reason including problems within the member organizations and delays caused by interference.
The congress also elected from the delegates a seven-member executive committee with Negash Osman as its leader. The executive committee includes Dr. Mohammed Beshir, Hailemariam Tesfai, Mohammed Sefer, Hanan Saleh, Ahmed Negash, and Idris Nuru.
The list of the representatives from among whom the above leaders were elected are:
Mohammed saleh Abu Shiba
Ibrahim Saleh Hamid
Fesshaye Hagos
Abdella Hamid Abdella
Jemal Said Adem
Mohammed Ali Sheeb
Mohammed Ismail Hummed
Idris Hummed Ibrahim
Abdulaziz Anwar
Idris Nuru
Kifle Asghedom
Saleh Ibrahim Jimjam
Hailemariam Tesfai
Beshir Isaac
Saleh Sebah
Yousif Berhanu
Negash Osman
Mokonnen Tekle
Haj Abdenur
Alazar Hagos
Haile Weldemichael
Michael Beyene
Mohammed Amed Sefer
Abdulkarim Mustafa
Abdella Mahmoud Hyabu
Abdulkader Affa
Bahta Hailemariam
Germay Tekie
Hussein Issa Aaqily
Mohammed Maar Musa
Ibrahim Gabeel
Osman Kena
Ustaz Issa Sayed
Omer Sultan
Abdella Said
Sofia Abdella
Mohammed Shifa
Alamin Abdella
Hannan Mohammed Saleh
Ahmed Negash
Eyob Maasho
Salahaddin Mohammed Saleh
Bukhre Fesshatsion
Khedija Khelifa Mahmoud
Tekhlai Abraha
Mohammed Beshir
Dawir Gidey
Kiflezghi Zewde
Mulu Negash
Adil Abubaker