In memory of my beloved brother Mohammed Saleh Mohammed Hagos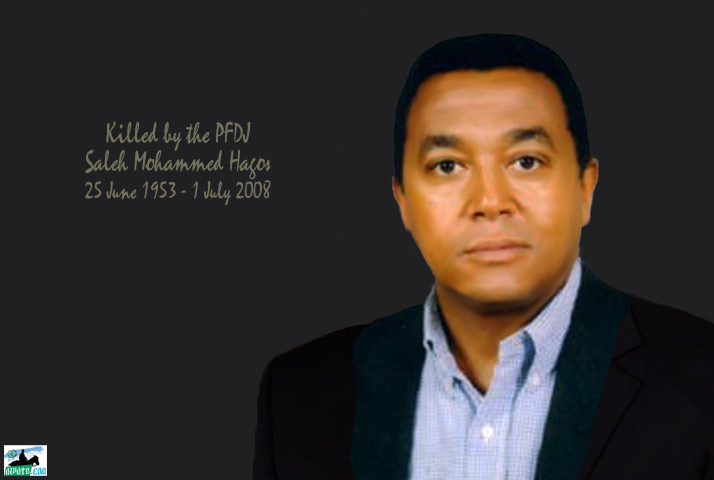 Mohammed was born in Mendefera in 1953 from his father Mohamed Hagos Juhar and his mother Fatima Idris Kahssay. Soon after he was born our parents migrated to Addis Ababa leaving Mohammed with our grandfather. Our grandfather was a self made businessman who was known for his famous bakery shop in Mendefera.
Mohammed completed his elementary school at St. Georgeo School Mendefera. At school Mohammed was always a top student coming 1stin his class. When he came 2nd once or twice he would make sure he secured his first spot the next time around. During his school holidays Mohammed worked at our grandfather's bakery where he had his first experiences of involvement in business. Mohammed, only about 10 years old then, would load bread on the delivery bicycle and supply shops and tearooms. The clients loved him, they would ask him to have tea and chat with them. Even at that early age his communication skills and attraction to people was there to be noticed. This experience at the bakery left him with a love of freshly baked bread. There is nothing Mohammed liked to eat more than freshly baked bread.
In 1970 Mohammed moved to Addis Ababa to join his parents and his younger siblings. By then Mohammed had completed 9th grade at St Georgeo in Mendefera. My father wanted him to go to the best school in town, St. Joseph School in Addis Ababa where the feudal elites sent their children. Coming from remote Mendefera, Mohammed's first challenge was to sit for a tough entry exam to join 10th grade. Again Mohammed scored high points and got admitted.
Within a year Mohammed spoke Amharic fluently and made lots of friends at his new school. He finished in the top five in his first year and by grade 11 and 12 Mohammed was always coming 1st.
In 1973 he joined Addis Ababa University Faculty of Science. After a year of studying at the University the Derg came to power and Mohammed had to go to do his national service (Zemecha). In 1976 he ran away from the Derg and came to the UK.
From 1976-1980 Mohammed studied Chemical engineering at Brunel University, Uxbridge and gained a Bachelors Degree in 1981. Then from 1981-1982 he went to Aston University, Birmingham to do his MBA. Typically both his Bachelors and Masters Degree were achieved with first class grades.
In 1983 he tried in various ways to set up his own business. Then in 1984 he started a very successful property development business in London. His talent in communication and lovable character gave him an advantage in business. To him work was done at leisure and he would be talking and laughing with clients whilst closing deals at ease.  Mohammed had the knack to make life appear so simple and enjoyable. He was full of energy and loved having a good laugh, he saw humour in everything. His energy rubbed off on people and even clients enjoyed his company.
Mohammed was married in August 1988 to Mensura Idris and has 3 children.  It would have been his 20th wedding anniversary this August.
Mohammed was doing well in London. However Mohammed had a lifetime ambition to go back to his country and work there amongst the people he loved. After Eritrea became independent he started to seriously concentrate on what to do back home. The opportunity to fulfil his ambition came when the Eritrean government announced that it would privatise industries run by the government. For Mohammed it was just another deal to be made. He travelled to Asmara a couple of times and then took a trip down to Bristol in the UK to see Unilever, the Omo brand owners, and within months Mohammed had finalised and convinced the family to buy The Red Sea Soap Factory. The factory was eventually bought and Mohammed was sitting in the general manager's office by June 1997. The factory was established during the reign of Emperor Hailesilassie with second hand machinery bought from Italy. By the time Mohammed started to work at the factory some of the machines were obsolete and the parts were not available. Often the machine manufacturers no longer existed.
From day one Mohammed went about modernising the plant and the buildings and began to construct a new factory from scratch on the land within the factory premises. I remember when, just after the 1998 – 2000 war between Eritrea and Ethiopia, the family were all in London discussing the environment in Eritrea. As we all know Ethiopian fighter jets had bombed near the factory, Mohammed was in his office when windows were shattered and shrapnel littered the compound. Some of us said that he should close and come to London as it was not safe if another round of fighting erupted. Also some of us sighted that there was problem with the business. Mohammed's initial business plan, which was drawn up before the war, depended on large volume export sales to Ethiopia and this big chunk of revenue was affected.  We therefore advised him to come to the UK until the dust settles down.
Mohammed was not having any of these negative views. To him his lifetime ambition to help develop his country was non negotiable. He immediately tabled a further investment and expansion proposal and insisted that he must get on with it. He always viewed things in the long term even if it meant suffering in the present.
The factory went through a particularly difficult stage when it was forced to close for a short period of time due to a lack of vital foreign currency. The factory workforce were so personal to him he treated them like his own immediate family. Whether business was done or not he maintained their wages and welfare.
His contribution to his county did not stop there.  He was elected as executive member of the newly formed Eritrean Employers Federation and was elected president of the Employers Federation. Mohammed became an asset to the country. He was a regular traveller with government delegates to various countries working on Eritrea's interests. He attended seminars in the country with courage and passion. Here is what Mohammed had to say during a seminar sitting alongside Hagos Gebrehiwot, Dr. Woldai Futur and others:
"Up until 1998, many Eritreans from outside were flowing to Eritrea to invest and do business. After the war, the flow has been either trickling or has stopped. I say this issue deserves a proper attention. I think it is important to conduct a study on what needs to be done to attract investors, be they Eritreans or foreigners, and take the necessary measures. The obstacle is not just the war; image can also be a problem. Especially since Eritreans love their country, we should do what we can to attract them. In general, we should take practical measures, small or big, that send positive signals of open opportunities to potential investors." Hidri Magazine (April 2005, Nº 14)
Those who know Mohammed would say that he was an exceptionally able and ambitious man who had determination and an incredible capacity to mix with people of all generations and race. He always sets for himself extremely high goals and does not rest until he achieves these goals. He was so driven and loved the sense of accomplishment. He loved sharing his joy with others and people loved Mohammed's energy. He was the type who would cry when others were troubled and laughed and celebrated when others made achievements.
To our shock and horror on 2 July 2008 Mohammed's dead body was found just outside Asmara on the hills along the Asmara Massawa road.
On the evening of Tuesday July 1st 2008, he had received a call from an unknown caller on his mobile insisting that he should meet them near his guest apartment in Monopolio.  We learnt that he was then handcuffed and cruelly tortured to death. Afterwards the killers drove the car with his body inside onto the Asmara Massawa road and dumped him.
The killers pushed the car down the hill. He fell out of the car about 20 meters down the hill while his car was found a further 100 meters down. Mohammed's body was recovered and then taken to the hospital in Asmara. An autopsy investigation was carried out which took 4 days. We were eventually allowed to bury him on Sunday July 6th 2008.
We are still waiting for the post-mortem report from the hospital and the police report of the investigation into Mohammed's death. At this stage there has been no official verdict recorded as to why Mohammed died or who killed him.
Mohammed's death has been a great loss not only to his dear family and friends but to the whole of Eritrea.  Mohammed had high hopes to use his knowledge and skill to help the people of Eritrea build a new and modern country that would be an example to the entire continent. To Mohammed, the "Eritrea will be a Singapore" saying was not just a slogan.  He believed that it was a viable dream.
The family would like to take this opportunity to thank all the relatives and friends from around the world who have mourned Mohammed's death. We were overwhelmed by the hundreds of people that came to pay their respect to the man they knew and loved. In Asmara thousands attended his funeral. The quiet mourners were demanding justice in their polite Eritrean way by attending the funeral in huge numbers. The fact that he was such a well-loved person gave great comfort to the family during this difficult time.
I am sure you will all join me in remembrance of a truly exceptional man and join the family in praying that the government will bring the perpetrators of this horrific crime to pay for their actions.
His loving sister
Seidi M Hagos  seadyhagos@yahoo.co.uk