Eulogy to Ahmad Mohammad Nasser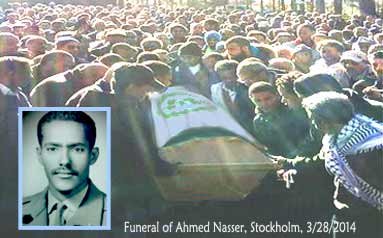 Once again, death robbed Eritrea one of its best sons. At 68 years of age, one of the respected and recognized leaders of the Eritrean national movement for self-determination and freedom, Ahmad Mohammad Nasser, passed away at dawn on Wednesday 26 March 2014 in a hospital in Stockholm, Sweden. He was admitted to intensive medical attention ward after suffering severe cardiac arrest that did not give doctors chance to revive him.
The news of his untimely death hit me, and for sure lots of his compatriots elsewhere, like a thunderbolt. The impact of the loss is devastating not only to his beloved wife, Suaad and their two children, Barada and Ammar, but also his friends, family circles, members of his organization as well as the larger freedom and liberation aspiring opposition camp.  The currently turbulent Eritrea's opposition politics will miss Ahmad's insightful understanding of contemporary affairs of Eritrean diversity from which the many forums in the past benefitted in efforts to bridge differences that often proved intractable in the existing polarized political realities.
Ahmad Mohammad Nasser was one of the bright youth of Eritrea who interrupted his otherwise promising future for higher educational and achievement, and sacrificed his career for the sake of the struggle of his people in their pursuit of liberation and freedom. Members of his age group such as the late Dr. Beyene Kidane, and many others, spoke of Ahmad Mohammad Nasser's brilliance and intellectual capacity that could have guaranteed him highest levels of academic achievement. Close observation of Ahmad's personal qualities would in fact drive an opinion that he was more qualified for a professor's job than for an officer in an army.
Ahmad Mohammad Nasser was born in 1946 in a village of his parents called Ayromale located in the plains of Dioot of Eastern Akkele-Guzai. As a child he was brought up in the household of his grandfather, Nasser Pasha Abubaker because his own father died before he was born. Along with his cousin, the late Abdalla Omar Nasser, he was exposed from early boyhood to political awareness due to his grandfather's active engagement in the Eritrean nationalist movement of the post- Italian colonial period. As contemporary politicians of the time such his friend and ally, Ras Tesemma Asmerom of Ma'areba, his grandfather was one of the prominent leaders whose political and social legacy of the 50s and early 60s was considerable.
Some hints of his grandfather's influence on Ahmad could be detected in his book Tahadiya Masiriya Amam Al-Mujtama's Al-Eretri: Stockholm, 1998). He records some historical and social episodes which his inquisitive mind had encountered in areas he used to visit in his village when he went there during school recesses. Coming from such politically aware family environment, thus, Ahmad Mohammad Nasser became involved in student activism early in his youth. After completing primary and intermediary levels in his hometown, Adi-Keih, he moved to the capital, Asmara, in 1960 to enroll in the Haile Sellassie I secondary school. This was time of tense political conditions stirred by Ethiopia's encroachments on the autonomous statehood of Eritrea under the Federation of 1952. Popular resistance was expressed through rampant student and workers activism. Ahmad, already equipped with awareness from home, did not hesitate to take active part in organization and leadership of the student demonstrations. The continued violation and eventual abrogation of the autonomous status of Eritrea in 1962 galvanized popular anger of the Eritrean youth like Ahmad which transformed to commitment to carrying on the mission of restoring the usurped rights of their nation.
Thus, Ahmad Mohammad Nasser interrupted continuation of his education as soon as he completed his secondary level, and joined in 1966 the ranks of the Eritrean Liberation Front as full time fighter. The Front which launched armed struggle five years earlier had operated in mostly rural regions of the country and the bulk of its fighters were of peasant origin that had had little or no schooling.  The Front was hence in dire need of educated youth qualified to go and pursue military and political training abroad. Thus, the leaders quickly took note of Ahmad Mohammad Nasser's competence and devotion and chose him as one of the fighters eligible for enrollment the military academy. He was sent with a group of fighters to Iraq for training. He graduated as an officer with honor and decoration. His performance was so outstanding that then president of Iraq, Ahmad Hassan Bakr, gave him a pistol and watch.
Upon returning from Iraq, Ahmad was assigned back to the ranks of the Eritrean Liberation Army and assumed the task of re-organizing and re-deployment of the fighters. This was when the zonal operational divisions that were introduced in 1964 were abandoned in favor of centralized command and control of the army. Fighters who were involved at the time testified the skill and professionalism Ahmad demonstrated in accomplishing the process which he guided to ensure that composition of the units reflected across-the-board representation of the nation.
Ahmad Mohammad Nasser continued as coordinating officer of the liberation army up to the time the historic first national congress of the Eritrean Liberation Front convened in October 1971. At this congress he was elected to the Revolutionary Council, the higher political leadership of the Front. Following the first national congress he still served in military affairs. His training and qualification helped him to accomplish much in areas of developing strategies and tactics compatible with military objectives geared to attainment of a people's aspiration for liberation in conditions of man-power and resources imbalance that favored the adversary. Ahmad carried on in that capacity until second national congress of 1975.
At that congress, he was re-elected to the Revolutionary Council as well as chairman of the Executive Committee. He served in that capacity up to events of 1982. Subsequent to the events that led to forced absence of the ELF as united military force inside Eritrea, and the divisions it had suffered thereafter, Ahmad assumed later the leadership of the ELF-Revolutionary Council, which continued to uphold the ideals embodied in the National Democratic Program of the Eritrean Liberation Front as endorsed by its previous congresses.
Under his leadership, the ELF-RC succeeded to re-emerge as viable force reflecting the legacy of the ELF and its patriotic, democratic and national character. Ahmad Mohammad Nasser led this hopeful organization up to 1995 when was the chairmanship was entrusted to another veteran fighter, Ibrahim Mohammad Ali, who led it up to the fifth congress in 2001. At that congress, Ahmad was returned as chairman to be replaced a year later in 2002 by the late Seyoum Ogbamichael. He continued in the higher leadership ranks until a dispute over membership in the then opposition umbrella, Eritrean National Alliance, ended up in a split that ruined organization.
After the event of 2003 and the sixth congress that followed, Ahmad was elected to the Central Council of the Eritrean Liberation Front- National Congress which was led by the late Dr. Beyene Kidane. At the organizational congress of 2009, took over again as the chairman of the Eritrean National Salvation Front until 2012 when decided to serve as an ordinary membership card-carrying.
Throughout his long military and political career Ahmad never lived a day for himself either as an individual or a father to two children. As an individual who knew him for so long, and closely worked with him through good and bad times, the writer of this lines can stand as a witness that Ahmad Mohammad Nasser unconditionally devoted his life to the cause of his people.  His children and wife had very rarely enjoyed the presence of a father at home although they deserved it as a matter of right. Ahmad understood this very well but to him the ideals and aspiration of an entire people of a nation was much more urgent than responsibility for a family. Perhaps the painful part the tragedy that has befallen his family is the fact that they shall miss him a short time after they finally thought they had rejoiced in having him home. Besides, his justice and freedom thirsty compatriots who are engaged in the struggle for liberation and democracy shall miss the wisdom, modesty and leadership of Ahmad Mohammad Nasser. Known for his humble character, humility and selflessness, Ahmad's absence from future political events and forums will continue to be felt for long time.
Despite the intensity and severity of the loss, there is no other thing to do but submitting to the fact fate imposes. My prayer goes to beloved Suaad, Barada and Ammar and to his larger family members as well. May the Almighty grace them, and us all, the strength to cope with the pain of this tragic.
Dearest Ahmad: Good bye brother; and promise you that the mission you cherished for life shall be carried on until Eritrea and its people shall set themselves free from despotism.