Eulogy in Honor of Adhanom Ghebremariam by Mesfin Hagos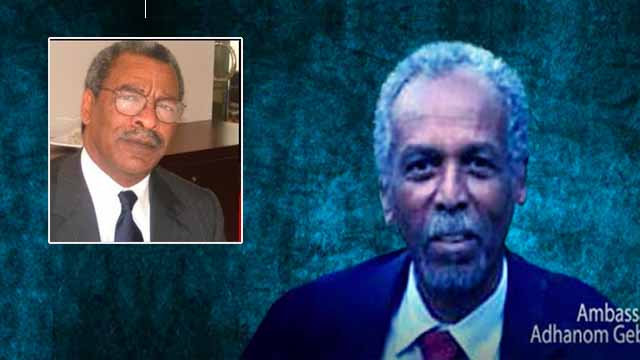 (translated by Semere T Habtemariam)
Mesfin Hagos entrusted me to read this eulogy at Adhanom's funeral but for reasons that are not known
to me, and possibly would not and could not understand, I was not able to do so. The second-best thing
I can do is to take the liberty of translating it into English, and give it, hopefully, an even wider audience.
The original Tigrinya version will most likely appear in other websites, but this English translation, as
Awate's established practice and rules require, would be at my column at Awate only.
(Ambassador Haile Menkerios and Mr. Muhyiddin Abubaker Shengeb had also asked me to express their
appreciation to their fellow Eritreans who had come to honor Adhanom and pay their last respect and to
express their condolences to Adhanom's families, friends, and the Eritrean people at large. Ambassador
Andebrhan Woldegiorgis had also sent his eulogy, but it was also not read.)
______
May God Welcome you in Heaven, Adhanom!
I met Adhanom for the first time in April of 1972—about four months after he joined the armed
struggle. It was in Ayet, inside the Sudanese territory, west of Qarura, and north of mount Denbobyet. It
was during the time when the civil war was in its most intense stage, and the very survival of the Popular
Forces was at stake. From about the end of 1971 till the afore-mentioned time, I was abroad on an
assignment and so Adhanom and I were not able to meet.
Adhanom and those who joined the struggle with him—most of them—were young men in their
twenties who did not have much experience in combat when the civil war broke out. Although it was a
sad and regrettable time and incident that witnessed a brother killing a brother, it was the likes of
Adhanom and his comrades, a group of educated patriots, who ensured the very continuity of the
Popular Forces. Due to the assistance and guidance, they received by the fighters (tegadelti), who had
been in the field before them, they were able, in no time, to adapt and meet the challenges of the civil
war. It was amid this situation that I first came to know Adhanom. In his first combat, Adhanom stood
out for his courage and resourcefulness and caught the attention of many. At the May 11, 1972, battle
of Ayet that raged on non-stop for four hours, Adhanom and I, by mere coincidence, were in the same
defensive position in the trenches. Due to the adeptness and courage, he demonstrated under fire, it
was hard to tell this was his first combat engagement.
Adhanom's experience during the armed struggle and its aftermath and his contribution to it is too
much and too valuable. During the armed struggle, apart from the last three years when he incurred a
serious injury, Adhanom spent almost all his time, 16 years, with the combat units. In the last three
years when he was outside the combat units, he was serving the EPLF's Department of Trade.
During our time in the field and armed struggle, one of Adhanom's most important contributions that I
recall is his role in promoting political awareness and education of the struggle among the fighters of the
Popular Forces. This resulted in the publication of "The Document of Political Education for Fighters." It
is hard to forget how Adhanom and those who came with him to join the armed struggle, and those
other educated fighters who joined the struggle at the time, played an important role by creating a new
and conducive environment that uplifted the morale and fighting spirit of the fighters. In 1972, at a place we used to call Gereger Sudan, when the Popular Forces was in its embryonic stage, and its very
survival and continuity was at stake, they were instrumental in raising such questions as "Why do we
struggle?" "How do we struggle?" At nighttime, the topics were debated, and the curriculum designed,
and at daytime, the lessons were given to the rest of the fighters. The draft document, the "Political
Education for Fighters," was continually improved upon and was utilized and implemented to serve the
cause till liberation was achieved. Alongside this, this was a time when an illiteracy eradication campaign
was equally and tirelessly waged among the fighters.
The limited financial resources of the organization made stationery rare items. In lieu of stationery,
whenever opportunities present themselves, we would use packaging cartoon and cut boxes, and in
their absence, flat stones that we carried to the teaching places, as papers and blackboards; and wood
charcoal as pen and pencils. This collective enterprise enabled the Popular Forces to defend itself
against enemies; and foster, strengthen and preserve the unity and mutual care within its ranks and file;
and expand from sparsely populated narrow spaces to vast territories with dense populations. The
impact of this initiative was much greater. It was responsible for enabling the Popular Forces (later the
Eritrean Peoples' Liberation Front) to mobilize and organize the Eritrean people to join the struggle;
efficiently organize, make optimal use its limited resources; establish administrations in liberated and
rural areas in a manner that had few rivals in history; and fight and defeat an enemy that was tenfold
stronger. This was the outcome of the great contributions that Adhanom, the rest of the leadership and
all members of the organization had made.
After the liberation of Eritrea, Adhanom served his country and people as provincial Governor, Attorney
General and Ambassador. Adhanom's struggle towards the achievement of citizens' rights, justice, the
establishment of the rule of law, and constitutional system of governance is well-known to all that I am
not going to dwell on it. What I want to emphasize is that Adhanom is one of our most exemplary figures
who tirelessly and courageously made enormous sacrifices to defend the rights and principles that we all
spent a lifetime fighting for.
Like all God's creatures, a human-being also dies. The truth that we repeatedly say is that man dies but
history lives on. History becomes the reference for future generations. The martyrdom of Adhanom and
of those many beacons of light before him was not unexpected or surprising. What makes it abnormal
and unexpected is that Adhanom and his likes, symbols of our peoples' struggle, have not been able to
die in peace, deprived from being among their families, not being under the care of the government and
country they helped birthing, and under the care of the people they served. At the end of their lives, all
these should have been their reward. It is not only that they were deprived of these, but Adhanom and
his likes, heroes of our armed struggle, and the struggle for justice, even in their graves, are victims of
Isaias's vicious attacks of betrayal and treason. Let alone these bona fide heroes, who made a lifetime of
sacrifices, even a lay person is not ill-spoken after his death according to our cherished tradition. This
honored tradition is a joke to PFDJ and their loyalists. Regardless of their campaign of defamation and
vilification, this should not deter us from renewing our resolve to fight for the rule of law, justice,
democracy, truth, and reconciliation in Eritrea. It only calls upon us to renew our spirit and continuously
reevaluate our methods and adjust them accordingly to achieve our goals.
Adhanom has joined the caravan of martyrs. And sooner or later, those of us who are still alive would
join them. Adhamom and his history would inspire future generations. The responsibility of fulfilling the lofty aims for which Adhanom and the many, who preceded him, had fought falls on those of us who are
still alive and those who come after us. It is the moral responsibility we owe it to them.
Adhanom, may God welcome you to His Heaven. I extend my condolences to Adhanom's family and the
Endaboy Bashay Ghebremariam family in general. May God grant you the strength to bear your loss.
Thank you
Mesfin Hagos