Djibouti Protests Yemen Media's Gulf Cup Politics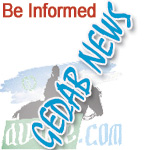 This year, the Gulf Cup is being hosted by Yemen and the games are played in Aden. Given the political relationship of Yemen to the Gulf nations, no head of state was willing to attend the opening ceremony.  To avoid this public embarrassment, Yemeni president Ali Abdella Saleh went calling on his neighbors, Eritrean president Isaias Afwerki and Djibouti president Ismail Omar Guelleh, although neither of the countries they preside over are members of the Gulf Cup tournament.
The Yemeni news agency, SABA, attempted to make the most of its country's failure to attract the heads of the Gulf States for the opening ceremony by implying that Yemen was mediating the Djibouti-Eritrea border crisis.  The supporters of Eritrea's ruling party, the PFDJ, hailed this as a diplomatic breakthrough, owing to the genius of Isaias Afwerki.  The Djiboutians, feeling ambushed, issued a strong denial in the Djibouti newspaper Al-Qarn. An English translation of the statement they issued reads as follows:
On Tuesday November 23, 2010, Djibouti's minister of information, government spokesman, Ali Abdi Fareh denied the accuracy of the information reported by the Yemeni news agency, Saba, which reported on the visit of President Ismail Omar Guelleh to Yemen.

The Minister refuted Saba's reporting which was also quoted by other regional and international agencies, not based on facts. He said that Saba used the picture of President Guelleh and the Eritrean president taken at the opening ceremony of the "Gulf Football Cup 20". The picture gave the impression that Djibouti has normal relations with Eritrea. And contrary to what the Yemeni agency reported, there was never a tripartite summit between Yemen, Eritrea and Djibouti on any subject.

The minister stressed that the Djiboutian president held bilateral meeting with his Yemeni counterpart on issues of common concern on the sidelines of his visit to Aden at the invitation of President Ali Abdullah Saleh to attend the opening ceremony of the Gulf Football Cup 20.

Concerning the Eritrean-Djiboutian relations, the minister stated that the task of resolving the border dispute between the two countries is still under the auspices and the mediation of the Emir of Qatar, and expressed his hope that the conflict would be resolved peacefully and in accordance with relevant United Nations resolutions.
According to the recently released Wikleaks, Yemeni president Ali Abdella Saleh has complained to General Patraeus that while he welcomed Prime Minister Gordon Brown's announcement of a conference and looked forward to cooperation between his country, the United States, the EU, Saudi Arabia and the United Arab Emirates, he considered Qatar, Iran, Libya and Eritrea as nations working against his country. He also expressed his concern regarding contraband products from Djibouti, particularly weapons and drugs, although he said he had no objection to contraband whiskey, "provided it is good whiskey."
This is the first time that Yemen has hosted the Gulf Cup since the tournament's founding in 1970.