Dejen DC: Forto 2013 – Updated
Eritreans for constitutional governance and democracy demonstrate outside the Eritrean Embassy in Washington, DC.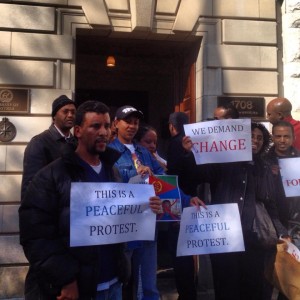 The Eritrean Embassy spokesperson, Freweini Abraham, overreacts (just a tad) and describes the peaceful attempt of peaceful people to ask for peaceful change in Eritrea as if it was somebody attacking Dejen DC. Read her instant classic below:
29 January 2013 – Today, a few hooligans attempted a copycat attack similar to recent incidents in Europe. Their attempt to enter the Embassy of Eritrea and "occupy" it was foiled.
The monkey see, monkey do, act was foiled by a swift combined efforts of the Embassy staff, law enforcement and the vigilant members of the Eritrean Community in DC area.
Three main culprits were arrested and the rest were documented (their personal information recorded) by the police department. This group of disruptive individuals was given a warning not to come close to the Embassy premise, lest they risk being arrested for trespassing. Many members of the Eritrean community in the Washington Metropolitan area showed in a matter of minutes ready to defend the Embassy and its staff.
It is to be recalled, that the very same group of people attempted to disrupt a peaceful community meeting in September 2012 and were humiliated by the Eritrean community members and Arlington Police department.
Embassy of Eritrea
Washington, DC
Received on Tue Jan 29 2013 – 19:18:36 EST
Update: Read below:
We are our brothers' keepers…

The DMV change-seeking community has shown its unconditional support to its brave youth. This team has approached the Eritrean Embassy in DC on Tuesday January 29th, 2013 around 1 pm Eastern time, in an effort to present its demand for an all out CHANGE in our beloved nation showing its solidarity with the FORTO 2013 operation by our brave EDF members. Few minutes later, the federal police, secret service agents, and the metropolitant police were called by the embassy staff members, who reported on us an [un]lawfull entry – which was flatout lie. As you may see below a bunch of us had to go to court this morning which ended up with our VICTORY.

Don't you love the LAW! Ah, I wish we had some kind of law in Eritrea that everyone abides by – a LAW that is above everyone – a LAW that governs but not governed.

Dear PFDJ thugs, please understand that we canNOT be muzzled at any cost.

FORTO 2013 lives forever! More to come!