Awate's Critical National Service, The Public Duty To Help Sustain It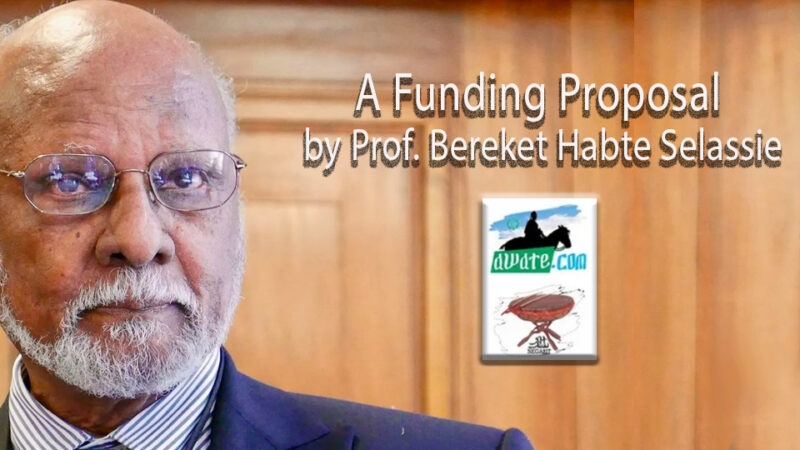 A Funding Proposal by Bereket Habte Selassie
The Reason for this proposal
I have been a regular reader of Awate.com. The quality and variety of its service has been striking and commendable, making it one of the premier (if not the premier) Media among Eritrea's Diaspora Media and community. The quality of its offerings reflects the superior skill and dedication of its founder and managing editor, the multi-talented and multi-language speaker Saleh Gadi Johar. 
One can have an honest difference of opinion with Saleh in what he writes, but no one that I know and that knows him can question the honesty and objectivity with which he lays down his views and marshals his arguments. From what I know about his background and his decision to switch his life's objective from a profit-oriented commercial activity to a public-(national)- oriented public service. Everyone that I spoke with concerning Awate's work as a Media or about Saleh's life at work and at home attests to the fair conclusion that this talented Eritrean could have led a highly profitable life commercially speaking, had he chosen to do so. He made a choice for public service and has devoted his considerable talents and experience toward that noble goal.
I, for one, have enjoyed his musings and critical reports and analyses, particularly under the heading of his Negarit forum, from matters concerning language and culture to the politics of national struggle and unflinching and untiring appeal for national dialogue to bring an end to the lunacy reigning in our nation. All this performed with enviable sense of humor and often with incisive wit. Above all, he is a dedicated patriot and inveterate freedom fighter.
His recent contrived debate with Isaias Afwerki, "the Analist," (not the President) probably stands as one of his, if not his best, performances. There is no doubt in my mind that the listening public that watched that dramatic undressing of the "Analist" appreciated the rigorous assault delivered with admirable skill and stunning, "dare-devil" verve. In my view that performance will remain as clear testimony of the indefatigable quality of a freedom fighter and will have established Saleh Gadi as the untiring fighter that he is. 
Let us unite to help sustain this national asset and thereby also do honor to a man who has become a national treasure. I have decided to launch a campaign appealing to like-minded Eritrean patriots to be part of such a noble endeavor. Let us begin by a modest target of raising US $5,000 during the next six months. To that end, I am going to prepare a list of potential donors and (privately) approach each one of them to make a contribution by referring to this campaign ad sending the check to Saleh Gadi Johar. 
I will send my own contribution and ask Saleh to keep it all as privileged communication until the target is met at which point, the details of contributors will be revealed. I am forwarding this memorandum to Awate.com for publication.
______________

Contribution addresses and account details:
1. Credit and Debit Cards : Below the "Support awate.com" icon on the frontpage, there is a form through which you can make your donation.
2. PAYPAL: Click the Orange Paypal icon or go to paypal and search for awate.com to contribute. Your contributions will appear on your bank statement as "Paypal*awate.com".
3. Bank Transfer:
Account Name: Awate.com
Bank: Bank Of America,
Acct #: 29570 76732
Swift ID: BOFAUS3N
4. GoFUNDME: https://gofund.me/811838cc
o t5. Other Payments: Contact us at for another alternative transfer methods.