Ambassador Yusuf Mohamed Ismail "Bari Bari": 1960-2015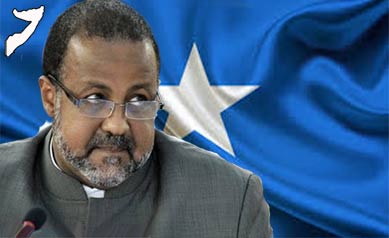 A Somali Hero and Champion of Human Rights
The tragic death of an extraordinary and valiant diplomat who fought for numerous causes, including the rights of Eritreans and people with albinism.
On Friday 27 March, Somalia's ambassador to Switzerland and the United Nations Yusuf Mohamed Ismail Bari Bari died along with at least 13 others from injuries sustained in a savage assault by Al-Shabab on his hotel in Mogadishu. The tragedy barely flickered on our news feeds, simply another terrorist episode in a country overly seasoned in such headlines.
Yet, the death of the Ambassador has sent shock waves through diplomatic and human rights communities. His absence is felt by everyone at the Human Rights Council, not simply due to the untimely and violent nature of his death, but also for the loss of a consummate diplomat who surpassed all expectations, who consistently fought the "good fight" by championing an array of human rights causes, and who lifted the international standing of his nation giving the Somali people a reason to raise their heads in pride at their presence at the UN.
Ambassador Bari Bari was born in 1960 in Garowe in north-eastern Somalia. He spent much of his youth outside of the country, particularly in Bologna in Italy, before entering the Somali state administration. It was in these formative years, in the cauldron of Somali politics, that he developed his persuasive skills and forthright attitude, and he would later comment that he was often compelled into leadership and into taking tough decisions at times when his superiors literally froze in the face of overwhelming events.
His aptitude, proficiency in languages and close relationship with key officials saw the Ambassador enjoy stints as government spokesperson and as an envoy to the EU, before being appointed Somalia's Permanent Ambassador to the UN in Geneva in 2008. His first task was to handle Somalia itself being placed under the spotlight.
When a country is highlighted by the UN's Human Rights Council for a "country mandate" and particular scrutiny, the usual response is to resist what is often interpreted as intrusive international criticism and exposure of its human rights issues. However, when Somalia came under focus, Ambassador Bari Bari guided his country towards open engagement, actively encouraging the adoption of a mandate, in an approach that is rarely seen. This also gained him credibility in speaking out on other issues.
Coming from one of the poorest, most war-ravaged countries in the world it would have been entirely understandable for a Somali diplomat to adopt an insular approach at the UN, remaining introspective and quiet on foreign affairs. Many larger, wealthier countries do just that. Ambassador Bari Bari did not. In 2011, after listening to the appeals of Eritreans and hearing of the gross human rights violations underway in Eritrea, he decided to act. He said at the time that it was important for Africans to stand up and show leadership on issues "in our neighborhood", and tabled a joint statement at the Council calling on Eritrea to treat its citizens with dignity and respect. In an incredible show of humility, Ambassador Bari Bari told the UN that "Somalia will always stand by the people of Eritrea, and we do not want the Eritrean government to make the same mistakes that we have". This was the first time Eritrea's appalling human rights record had been addressed at UN level, and the first time an African nation had led on such an action at the Human Rights Council. That action was followed by the appointing of a Special Rapporteur on Eritrea in 2012; the renewal and strengthening of the mandate in 2013, and in 2014, the creation of a Commission of Inquiry (COI) to investigate the human rights situation there.
Similarly, when Ambassador Bari Bari heard of the plight of people with albinism he moved swiftly to take action. In some parts of the Africa albinos are murdered for their body parts, which are alleged to possess magical powers. Many have been killed in recent years, and their graves desecrated. Ambassador Bari Bari sought to raise the issue, again despite the anger and opposition of several fellow diplomats who felt he was embarrassing them by highlighting the problem. As a result of his persistence, the Council announced in March this year, just a day before his death, that it was appointing a UN Independent Expert to investigate and defend the rights of people with albinism around the world.
The Ambassador's dogged advocacy for human rights in Eritrea earned him the enmity of that regime. He was threatened; on one occasion an Eritrean diplomat approached his table at a restaurant in the UN, pointing his finger in his face and cursing him. He probably would have hit Ambassador Bari Bari had he not been intercepted and led away. On several occasions the Ambassador's unwavering commitment even caught seasoned human rights NGOs by surprise. At the time the Commission was being mooted, some worried it was too soon; they feared a call for a Commission would fail and would even endanger the special rapporteur's mandate. They sought to persuade him to delay the initiative by a year. However, the Ambassador insisted, adding with an eerie prescience: "You do not know what could happen next year,..even I may not be here next year." The Commission is due to report back on its findings in June 2015, allowing some of the world's most victimized and abused people to be heard at the UN for the first time. As he predicted, he will not be there to witness it.
But perhaps most memorable of all for those who knew Ambassador Yusuf was his warm demeanor. He always smiled, his eyes always twinkling, despite often being under immense pressure from other states, and even sometimes from his own government, which sometimes felt that he was acting outside of Somalia's interests. In all the years he worked in Geneva, he never received his full salary and had traveled to Somalia at the time of his assassination to ensure its payment. Nevertheless, he worked without complaint and was always ready to take on an additional fight, particularly if it meant securing justice for vulnerable people on the African continent. On several occasions he would say to others who were also under pressure: "Leave it to me, my shoulders are broad, I can take that burden."
His shoulders were broad indeed. We deeply mourn his passing. Somalis, UN diplomats, activists, and the victims that he championed will miss him greatly.
Ambassador Yusuf Bari Bari is survived by his wife and two children
By:
Elsa Chyrum
Dr Khataz Gondwe
Matthew Jones