Afwerki and Al-Bashir: Unholy Matrimony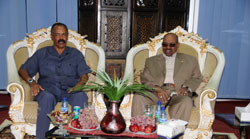 Port Sudan: 27 November 2013
In a ceremony dubbed as one of the most romantic weddings of the year, Eritrea's Afewerki and Sudan's Al-Bashir at last exchanged wedding vows in an outdoor ceremony at the gardens of Port Sudan trade center. The wedding was officiated by the highest spiritual guides in both countries, the couple themselves.
The on and off romantic relationship between the couple, particularly after Afwerki's loss of his long-time partner, King Of Kings, Brother Leader, Colonel, Shaikh of…(title too long, please turn over to next page for full list) Muammar Gaddafi, has been widely speculated for some time now. Afwerki is said to have suffered immensely after the loss of Gaddafi, causing him to seek medical assistance in Qatar several times. Close associates of Afwerki, who wish to remain anonymous, or their heads will be chopped off, reported that the news of Afwerki's near death last year was actually due to excessive drinking and drug usage which got worse after Gaddafi's brutal death.
Asked about his thoughts, the Amir of Qatar, the match maker who actually convinced the couple to make their relationship formal, said "Afwerki was hesitant at the beginning, he was unable to let go of Gaddafi's memory, but it was time to move on. Particularly after his continuously deteriorating health, he needed some romance in his life"
Afwerki decided to make the surprise proposal last Sunday, when he drove with his convoy unannounced to Port Sudan two nights ahead of the annual "Shopping Exhibition". When Al-Bashir arrived at Port Sudan as scheduled the next day, unaware that Afeworki was already there, he was overwhelmingly surprised to be received by Afwerki at the city's main bus terminal. Surrounded by admirers and facing Al-Bashir, Afwerki then pulled up his jelabya to reveal his knees, proceeded to show his flexibility by sitting down in a squatting position and commenced breathing through his knees. At that moment, in a choreographed manner, a modified version of Stings' hit song "Every breath I take, I want it to be with you" blasted through the loud speakers and inhabitants of the city lined up with flowers. Al-Bashir emotionally raised his cane with excitement and the crowd started cheering and ululating.
Afwerki was said to have personally made all the preparations to impress Al-Bashir. The couple wore their trade mark classic costumes, designed by the famous Eritrean tailor and fashionista, Wedi Qedad Sire. The couple's wedding couch was decorated and adorned with elegant golden frames, the aisles were showered with pop-corn and flower petals. The table was a borrowed vintage from Haile Selassie era, it was given as a present to the famous socialite known as Asmara Rose, who flew from USA at Afwerki's request to host the evening and entertain the guests. The ring bearer was a young refugee advocate, iBad Girl, who carried a pearl and gold satin pillow with the Gaddafi's Green Book on it.
Classic Sudanese songs such as "whop 3aleya ya yuma" and "ya Hlelu algemer ja" were played as the couple walked the isle, and later on danced to Afwerki's favorite song, Abrar's "Kemzi' elkas nabra aykonen", a song Afwerki usually sings when he is intoxicated.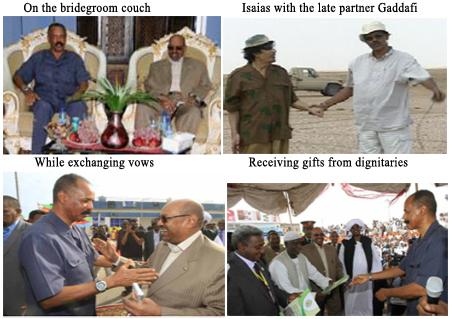 The ceremony was attended by close family members, friends, dignitaries and business tycoons. Immediately following the ceremony, the couple was honored at a reception hosted by the CEO of HOT Pty Ltd, a company specialising in Human & Organ Trafficking. They have also used the opportunity to strengthen bilateral relations and agreed on future smuggling plans and expanding the organ trade.
The ceremony however came to an abrupt end due to a security breach, when an individual identified as Sabaah entered the venue holding an alarm clock which the security personnel mistook for a bomb.
The wedding was broadcast live in both countries national television. For more wedding pictures, please check hijis-yelenalkin.com
Reporting for shgurti.com, Ahmed A. Abdelrehim