Seventeen Years in Prison without Charge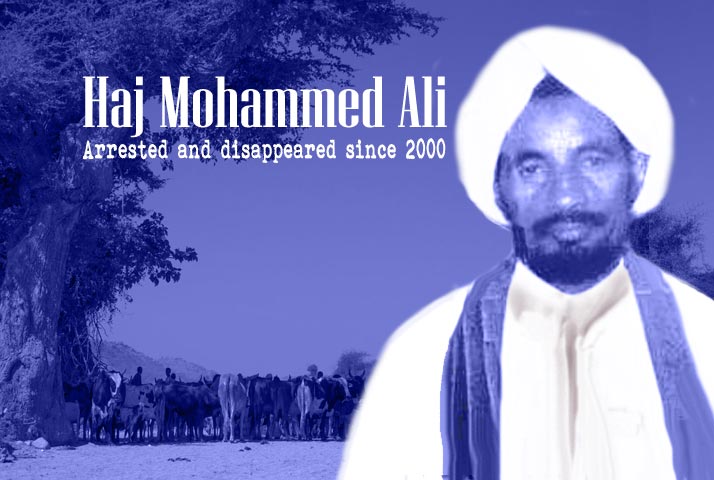 The person profiled* in this edition is Haj Mohammed Ali Mahmoud, a citizen from the town of Gelluy, commonly pronounced as Geluj, in the Gash Barka area.
Haj Mohammed was arrested in the year 2000 in Asmara, and there is no trace of him since he disappeared seventeen years ago. However, his family and relatives have been praying for his release, and waiting in suspense, anxious and hoping to see him again.
Born in January 14, 1946, Haj Mohammed studied primary education in the Sudan after which he moved to Egypt where he finished high school. He returned home in 1965, a few years after the spark that ignited the armed struggle for the self determination of Eritrea.
Throughout his youth, Haj Mohammed was active in the struggle and crisscrossed the region reaching as far as Port Sudan, an important port city where many exiled and migrant Eritreans lived. In his travels, he spread awareness of the Eritrean cause and garnered support for the struggle to liberate Eritrea.
Haj Mohammed studied nursing and was active in taking care of the wounded combatants of the armed struggle who were transported to the Sudan for medical attention. Nothing could have "preoccupied him in his life as the pursuit of freedom and a peaceful life for his people."
The long and arduous journey of liberating the Eritrean soil ended with the victory of the Eritrean armed forces in May 24, 1991, and Haj Mohammed found himself appointed as a director of the internal security apparatus in Gash Berka, where a Land Cruiser was assigned to him together with a driver named Bashir.
Ramadan said, "My father always went to Asmara, Keren and other places and roamed the country and we saw him only between his travels."
In 1996, he was appointed in the ministry of internal affairs and "was attending many meetings with senior leaders, of whom I recall Minister Mahmoud Ahmed Sheriffo, one of his best friends who was also arrested at the same time with my father."
After the end of the border war with Ethiopia, "witnesses who still live in Eritrea, and who should remain anonymous for their safety, said that my father always carried a pistol and a gun."
One time, Abdella Eshako a man who was a guard at the prison, brought some information to Haj Mohamed's family. Though Abdella and Haj Mahmoud knew each other well, in the prison, both pretended they didn't. Abdella said that Haj Mohammed asked him, to inform his brothers and children that he was jailed for reasons he doesn't know, in a prison in the outskirts of Asmara.
Abdella also said that there were a group of people who were interrogated in the same prison and later were transferred, together with Haj Mohammed, to the prison in Germaika, close to the Sudanese border. That is the last information the relatives of Haj Mohammed received about him, and to this day his whereabouts are unknown. He son Ramadan said, "My father is not the only one, there are many citizens like him who have disappeared in the regime's prisons."
Ramadan also explained that their family escaped to the Sudan during the border war of 2000, and returned only when the Ethiopian enemy forces left the region. He said, "immediately we began to ask about my father to find out whether he was dead or alive… but his friends in the government kept telling us he was in Asmara, and that he will return to us as soon after he finishes his work, maybe after a year or so."
The family could not understand the responses they received but regardless, they kept waiting, counting the days until the days became years.
Haj Mohammed owned a restaurant and a hotel in Geluj, but it was all destroyed and lost during the invasion of the region by the Ethiopian army. Later on, the family reopened the businesses to support themselves. But suddenly the government officials gave them an order to close-down the business and that the family "cannot open the business and cannot sell it without a government permission."
The family lived in terror and confusion until finally the government allowed them only to rent the business to others and informed them that their business license will not be renewed under the family ownership. The officials further warned them: "you have to keep quiet and never talk about that again."
Haj Mohammed had eight children, two girls and six boys from his wife Samia Ahmed Idris. Ramadan said, "My paternal grandfather died while he was hoping to get news about his son, my father."
Ramadan added, "I joined my paternal grandmother, all of us left and continued crying day and night… and I have a little brother who does not understand what happened to my father; he always asked about him… we just told him that he is in Asmara and he will come to us soon… now my little brother is eighteen years old and I cannot face him because I do not have an answer for his questions… I can't help but run away from his questions, and accuse us all of concealing the real story from him while he unknowingly waited to see his father for all those years."
Ramadan pledges, "not to forget the prisoners, and they will always be in our memories for paying a price so that we can live freely." He further emphasized his rejection of "the Eritrean government that I even feel ashamed for considering it one–it is a gang that came out of the forest and dominated the country… but things will get better, no matter how long it takes… if the prisoners are alive, they will remain a national treasure, and if they are dead, they will have an honorable place in our history."
*Information provided by Ramadan Haj Mohammed Ali, one of the sons of the prisoner.