Photo Questioned: Is This Man Awate?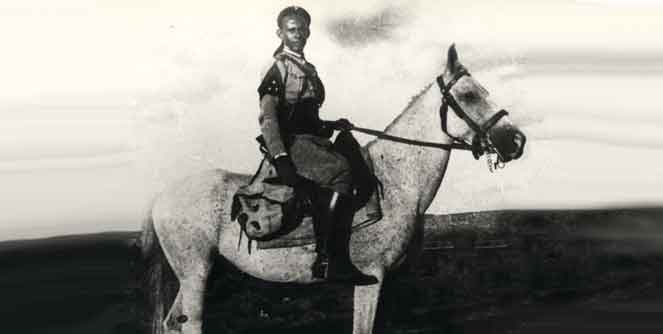 The only photograph of Awate was found in Agordat Police Station after the ELF liberated the Town in 1977. Awate's photo, together with other "Wanted Outlaws", retrieved from the Station in Agordat, was handed over to the then Chief of the ELF's security apparatus, Melaake Tekle. Later, when Melaake was killed during Abdella Idris' coup d'é·tat, the picture was publicized on posters.
The silhouette picture on our homepage is from the original photo that was found in Agordat.
Unfortunately, there is little known about Awate before he launched the Armed Struggle on Sept. 1, 1961.
Awate.com has tried in vain to contact Awate's son, Kerrar, who practices medicine in Damascus, Syria. Though Dr. Kerrar was one or two years old when his father Awate passed away to remember anything about his father, there could be some knowledge within the family that would enrich our knowledge of Awate. The awate team urges Kerrar Awate and other offspring of our great martyrs to contact this website and share their knowledge with the public.
The picture of the man on a Horse, that we captioned as being the photograph of Hamid Idris Awate was obtained from an EPLF office. Its authenticity was challenged ever since. That is why awate.com put a question mark within parenthesis in the caption. Recently, a visitor to awate.com named A.S, commented the following:
"In my first letter I would like to draw your attention to a mistake in your picture window…the picture of Awate there is different to the one on your Webpage. The later of course is the correct one, which is recognized and used by all Eritreans and their political organizations. The second one in a military uniform was first published by EPLF's newspaper "Eritrea Al-Hadisa/Haddas Eretra" in 1991. This particular picture, however, is not Hamid Idris Awate at all.

The man in uniform on a horseback is called "Fetawrari Saleh Ibrahim Shkker" from Ghinda-Eritrea. He was in the Italian colonial army among many other Eritreans of his time. The picture was taken of him in Libya (not in Adal-Barka) where he lived for more than 20 years and fought against Umar Almukhtar's Jihad for Libyan liberation. Mr. Sheker's children are still alive and have copies of that photo.

The EPLF who first published the photo as Awate's one never proved how Awate ended up wearing Italian uniforms and where the photo was taken. They claimed a man from Agordat who knew Awate brought it to them. However, Mr. Shkkere's children informed the EPLF authorities of the true identity of the man on the photo but to no success…as it became embarrassing for the EPLF to withdraw it after the huge publicity they made.

Now…the Awate Team are informed of the true identity and would hope you would not make a similar mistake to those made by the EPLF authorities. Awate's true picture and identity should not be confused."
This incident reminds us to appeal to the offspring of the fathers of the struggle to cooperate with us and send us any picture of a document that they might have with them or with other family members. We urge to the following:
Dr. Kerrar Awate, Syria
Alula Welwel, USA
AbdulWahab Ibrahim Sultan, France
Hassan Kebire, Texas, USA
We also urge visitors to awate.com to share vintage pictures, historical photos and documents with the public through awate.com.
the awate team