Mai Ule (ማይ ኡለ) : A Play — ACT (II)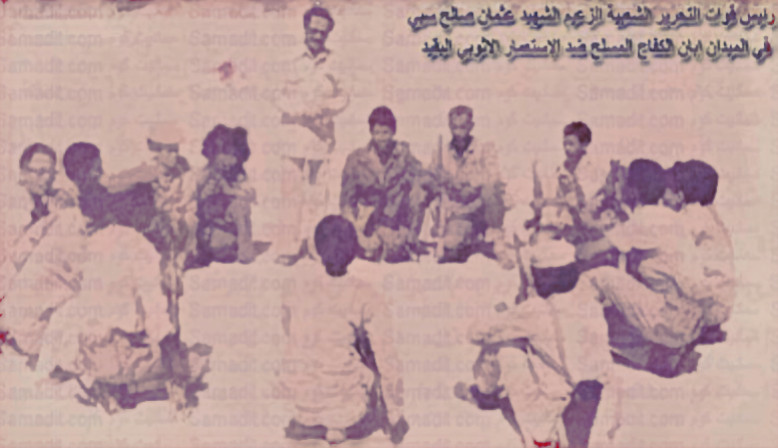 ACT (II)
CHARACTERS 
Ahmed Mohammed Nur Hillal  (

ኣሕመድ

መሓመድ

ኑር

ሂላል

) — Abu Hillal
Abubaker Mohammed Hassen Gadi (

ኣቡበከር

መሓመድ

ሓሰን

ቓዲ

) — Abu Fanun 
Hassen Hummed Amir (

ሓሰን

 

ሑመድ

ኣሚር

)  — Abu Hassen
Ahmed Saleh Alqeysi (

ኣሕመድ

ሳልሕ

ኣልቀይሲ

) — Abu Ahmed 
Sulieman Hindi (

ሱለይማን

ህንዲ

)  — Abu Hindi
MihreteAb (

ምሕረተኣብ

)   —   Al Assed (The Lion)
SETTING:  She'eb (ሽዕብ)  and environs, late 1971 to mid 1972.
SCENE: Mai Ule (ማይ ኡለ) river and the hills, mountains in its vicinity.
( After noticing that the platoon leader, Ahmed Hillal, beckoning to him, Sulieman Hindi, headed expeditiously to the shade of the tree where the THREE fighters were sitting. He exchanged warm and heartfelt greetings with his comrades and promptly apprised them about all the information they were able to gather on their way from Emberemi to Mai Ule. Noticing that he was beat and exhausted,  Abubaker took down the water-skin (ሓርቢ) hanging from the the branch of the tree and offered him a cup of buttermilk (ብራሕ). Shortly after that, they were engaged in a colloquy and their exchange flowed like this… )
Ahmed Hillal: Praise be to God. You made it safely to Mai Ule, Ya Abu Hindi.
Sulieman Hindi: Indeed, praise be to God. My squad and I are finally here and home free. Many thanks for your solicitude and sincere concern, Ya Abu Hillal.
Ahmed Hillal: I hope that you were able to accomplish your mission and carry out all the tasks that your squad was assigned to it.
Sulieman Hindi: I hope we did, Ya Abu Hillal. When we sojourned in our base, Gedem, the leader of the unit stationed there, Saleh Mohammed Ali, Saleh Tetew, gave us a wide-ranging update so as to keep us abreast of all the developments within our forces.
Ahmed Hillal: So that means you are aware of the recent military operation against the Ethiopian forces stationed in SebarGoma/ Digdigta (ሰባርጎማ /ድግድግታ)  that was undertaken by our unit led by  Ibrahim Ali Affa, Abu Khelil.
Sulieman Hindi: Yeah, Saleh Tetew, informed us about the successful operation, the whole nine yards and when we stopped at the village of Akhwar (ኣኽዋር), near Ad Shuma, Abu Aafan, Osman Abdella Billuh showed us the topographic/terrain mud map or sand map, that was meticulously prepared by  Abu Khelil. We learned that the operation was so successful that all vehicles were destroyed save for two and almost all of the Ethiopian soldiers perished except for the few who managed to escape.
Abubaker Mohammed Hassen Gadi: What can you tell us about the conditions of our civilian population that you came across with and their views about the political developments in the Eritrean theater or field?
Sulieman Hindi: In our way back from Emberemi, we encountered many a civilians and has had many a meetings and discussions that enabled us to assess and gauge our peoples views about the Eritrean revolution. which we found it to be not inimical towards our forces.
Hassen Hummed Amir: What about the provisions and the other stuff that we requested you get us from BatsEi –Massawa –. I hope you succeeded in that, as well.
Sulieman Hindi: Sure. Sure. We were lucky and you can say that we were able to get the whole shebang. We got the vital medical supplies as well as most of the stationary for our information department. While we were waiting for the supplies, something that we didn't anticipate happened.
Ahmed Hillal: And, what was that transpired and that you didn't expect?
Sulieman Hindi: A young Eritrean, age 17, came to us and told us that he intends to join the Eritrean armed struggle. He said his name is MihreteAb, a Christian, and he came from BadiE, BatsEi, (ባድዕ –> ባጸዕ) or Massawa to join the Eritrean revolution.
Abubaker Mohammed Hassen Gadi: Oh, no. NO. That is one hot potatoe issue between us and our brothers in Selfi Natsnet (ሰልፊ ናጽነት). They are insisting that all new recruits who are Christians to be assigned and detailed to them and all new Muslim recruits to join us, PLF-1. As you know, Ya Abu Hindi, we have grudgingly  acquiesced to their demands. They were adamant about it despite of our persistent demurral. We didn't want this issue to scuttle our bigger goal of unity and we decided to go along with it for the time being.
Sulieman Hindi: I am quite aware and very cognizant of the issue you addressed, Ya Abu Fanun 
( Fanon). When MihreteAb came to us, I have explained to him the situation in detail. I have suggested that he returns to Massawa then go Asmara and try to join The Selfi-Natsnet group in the environs of that city. He told us that was not possible and if he returns to Massawa, his life would be in danger.
Ahmed Hillal: How is that so? What was his reasons and rationale, Ya Abu Hindi?
Sulieman Hindi: You see, Ya Abu Hillal, we tried everything, with our limited Tigrinya proficiency, to persuade him to return and to try another route, but all to no avail. We have even tried to look around for units of Selfi-Natsnet on our way back and even asked the villagers if they saw some of their fighters. We were hoping that we can hand him to them, if they were somewhere around.The farmers and shepherds that we encountered in our way back to Mai Ule who came from the highlands told us that the only places they saw the Selfi-Natsnet  fighters were around Winna and Tekhli (ዊና and  ተኽሊ).
Hassen Hummed Amir : Still, the question that is looming large is why this young man, MihereteAb was loath and reluctant to return to BatsEAi, Massawa, and try another way to join JamaAt Asiyas (ጀማዓት ኣስያስ) or  Selfi-Natsnet.
Sulieman Hindi: Here is what I was able to divine from the story MihreteAb told us. He said that this was his THIRD attempt of trying to join the Eritrean armed struggle. In his first try, he was caught by Ethiopian soldiers and was lucky enough to wiggle out from that dicey situation through sheer persuasion of the soldiers. On his second attempt, he wasn't lucky and they threw him in the slammer where he was incarcerated for two months. He told us that if he returns to Massawa now and the Ethiopians find out about it, he thinks that he will end up in jail and face dire consequences. That is why we decided to accept him and bring him with us, Ya Abu Hassen.
Ahmed Hillal: (Musing deeply). After a short period of time, he asked Hassen Hummed Amir, to go look for  Ahmed Saleh Alqeysi and to tell him to bring the young man, MihreteAb with him so as to find out for themselves what his story is all about.
(  Ahmed Saleh Alqeysi, perched near a big rock adjacent to a cave, was feverishly working on a paper for a soon to be published periodical of PLF-1, Al-Munadil (ኣልሙናድል), Tegadaly  (ተጋዳላይ), The Fighter. Without lifting his head, he welcomed his comrade, Hassen Hummed Amir. After listening to Abu Hillal's request, they both went together and took MihreteAb with them to Abu Hillal and Fanon. When they arrived at the tree and after a brief greetings and welcoming, they went right on to business and Alqeysi was the translator. Abu Hillal and Fanon were posing their questions in Arabic and MihreteAb was responding in Tigrinya.  )
Ahmed Hillal: First, allow me to offer you our humble and warm welcome to our base. Is it true as Abu Hindi told us that this is your THIRD attempt to join our armed struggle.
MihreteAb: Yes, what Sulieman told you is the truth and the absolute truth.
Abubaker Mohammed Hassen Gadi: But, Ya Shebab, youth, we can't keep you with us. You can't join our forces because if our brothers in Selfi-Natsnet find out about it, they will hit the roof and will be apoplectic about it.
MihreteAb: ( Speaking fervently and passionately) I don't get it. I really don't get it. What difference does it make if I am with you or the other group. Aren't you all Eritreans fighting for the same cause of ridding Eritrea from the Ethiopian occupation forces? All I have so far known about the Eritrean political situation was that Eritreans were fighting against the Ethiopian regime under one front.
Ahmed Hillal: Ya MihereteAb Al Assed, where were you born and where did you grow up?
MihereteAb: I was born and raised in Addis Ababa, Ethiopia. My parents told me that we hail from the Akele Guzai region of Eritrea and we belong to the Irob (ኢሮብ) ethnic group. I grew up listening about the Eritrean revolution from my parents and friends of my parents discussing Eritrea. I literally has come of age imbibing stories about the Eritrean fighters. In all honesty, I still believe that there is one and only one Eritrean organization or front fighting against the Ethiopian regime. Aren't we all Eritreans with the same aspiration?
Abubaker Mohammed Hassen Gadi: How long have you lived in Eritrea since your return from Ethiopia.
MihreteAb: I have been in Eritrea for the last six months. I visited my grandparents in their village, but most of my stay was with my aunt in Massawa.
Ahmed Hillal: Listen carefully here, Ya Miheretab Al Assed. You are going to stay with our comrade Ahmed Saleh Alqeysi. You eat with him, work with him, sleep beside him and go with him wherever he goes. You are going to literally hang out with him for twenty four hours a day until  such an opportune time arises and we are able to find a solution to your situation.
( Both Alqeysi and MihreteAb departed the scene and headed to Alqeysi's work station. On their way back, here is how the rapid- fire exchange proceeded between the two.)
MihreteAb:  Who are the two fighters that were asking all these questions?
Ahmed Saleh Alqeysi: The two who were asking you questions are among the top leaders of our organization. The one who asked you first is Ahmed Mohammed Nur Hillal whose moniker is Abu Hillal, and he is the platoon commander.
MihereteAb: He looks very young to be a platoon leader. Can you tell me more about Ahmed Hillal whose cognomen you said is Abo Hillal.
Ahmed Saleh Alqeysi: You said, Abo Hillal. Good memory and retention. Close, very close to Abu Hillal. I promise you that I will tell you everything but the kitchen sink pertaining the prevailing political conditions in Eritrea. It will take me hours to tell you who Ahmed Hillal is, but for now let me just share with you the following thumbnail account about Abu Hillal. You are right, Abu Hillal is young, barely twenty-three years old. At a very tender age and through many trials and tribulations, he made it to Syria and luckily finished his high school education in Damascus.He sat for the high school leaving examination and was one of the students who scored high in that exam among the Syrian high school students. Consequently, that afforded him the chance to join one of the top institutions of higher learning in Syria. He was accepted by the elite institution, THE SYRIAN MILITARY ACADEMY, analogous to the USA's West Point. He enrolled there and graduated about a year and half ago, whereupon he joined the Eritrean revolution. He is the apotheosis of an Eritrean Tegadalay, fighter, the epitome of Eritrean nationalism and an exemplar revolutionary, to boot.
MihreteAb: ( Mouth agape) Wow! wow! Now tell me what could Abo Hillal have done with his degree from the Syrian Military Academy?
Ahmed Saleh Alqeysi: Well, for one, the Syrian military would have enlisted him. What is more, he could have joined the military of other Arab countries especially the Gulf states. You see, he could have led a very comfortable life with that degree. He had a very bright career ahead of him. Instead, he opted to join the Eritrean armed struggle.
MihreteAb: I don't know how to ask you this question, but where in Eritrea is Abo Hillal, uh oh, I meant to say Abu Hillal from?
Ahmed Saleh Alqeysi: Excellent, you corrected that Abo to Abu, way to go, right on, Ya MihreteAb Al Assed. As I told you before, you can ask me any question that pops up in your head. We will conduct a no-holds-barred exchange here and I will tell you everything but the kitchen sink. To come back to your question, Abu Hillal hails from the Dankalia region of Eritrea and he is from the Afar ethno-linguistic group. While I am at it, Abu Hillal has baptized and dubbed you with the cognomen, Al Assed, as in MihreteAb, Al Assed — meaning, MihreteAb, THE LION.
MihreteAb: J have another question. Why do you use such terms like Abu. Now they refer to you as Abu Ahmed, we have Abu Hillal and Abu Fanun? Are these nicknames, sobriquets or epithets?
Ahmed Saleh Alqeysi: They are not nicknames or sobriquets per se, but rather terms of endearment used among those who are very close to each other.
MihreteAb: Thank you for your elaborate answers. Now, who is the other fighter who was posing those questions to me?
Ahmed Saleh Alqeysi: Oh, that one is Abu Fanun, Fanon. His name is Abubaker Mohamed Hassen Gadi. He is very young, about twenty three years old, and just like Abu Hillal, his life story follows a similar trajectory. After an arduous journey  that was suffused with dangers and jeopardy, he arrived in Egypt. He was accepted by The University Of Cairo where he studied GEOLOGY. Barely leading a very difficult student life, literally a hand-to-mouth life, he graduated with a degree in geology in the early part of 1970, whence he left to Damascus, Syria, before joining the Eritrean Revolution in mid 1970. Everyone who knows Abubaker fondly refers to him by his cognomen, Abu Fanun, Fanon and it is not without a rhyme or reason. He is the ultimate revolutionary, the consummate nationalist and a Munadil, fighter, in every respect of the word and to the core. Those who know Abu Fanun, Fanon, will attest to the fact he is the intellectual giant of the Eritrean Revolution, bar none. Hence the cognomen, Abu Fanun.
MihreteAb: You see, when I was in Addis Ababa, I barely finished high school. I just  completed 10th grade last summer before I came to Eritrea. You are telling me that Abubaker, Abu Fanun, has a degree in geology from The University Of Cairo?
Ahmed Saleh Alqeysi: Precisely, that is what I said. With a degree in geology, Abubaker could have easily found employment in the oil/gas industries in The Gulf States and led a good life and a lucrative career. But here he is pursuing a bigger national goal after jettisoning all personal ambitions. What makes Abubaker's case more gripping is the fact that he is not from a well-to-do and wealthy family. This is especially so on his mother's side. His mother who lives in Zulla (ዙላ) is indigent and very poor. She was expecting that Abubaker's graduation from The University Of Cairo would be her ticket out of poverty. That as you see did not happen as the national priority took precedence. And, here he is Abubaker, Abu Fanun, at the pointed end of the spear, leading the Eritrean armed struggle and revolution. Simply put, he is one of the dedicated democratic elements who are mightily struggling to right the ship. You know, the Eritrean revolution's ship that has been adrift for almost a decade now.
( They finally arrived at the spot where Alqeysi's workstation was located. It was past 5 PM and dinner time. A couple fighters brought them food and it was a plate of plain rice. Well, they ate their dinner hastily as they were hungry. Another fighter brought them some dates which they munched hurriedly and then Alqeysi put a kettle filled with water atop three stones and lit the wood brushes with a match. Once the stuff was brewed, Alqeysi gave MihreteAb a tin can — Kubaya — (ኩባያ)  full of that hot drink).
MihreteAb: After taking a couple of sips of the hot drink, asked: What is this drink. I know it is not tea and definitely it is not coffee, Ya Abu Ahmed?
Ahmed Saleh Alqeysi: Well, I will tell you what it is shortly, Ya MihereteAb Al Assed. Just let the hot drink cool down a little bit. The hot drink is called CASCARA or coffee cherry tea, Qeshir (ቐሸር) in Tigrinya or Tigrayt . It is derived from the dried husks of coffee beans. We bought it from one of Ad Shumma's shops. The coffee grows around Solumuna and Sabur in Semenawi Bahri (ሰለሙና, ሳቡር , ሰሜናዊ ባሕሪ). For a tangy flavor, one adds a dab of ginger powder.
Next: ACT (III)