GEAN Adopts Four Core Eritrean Issue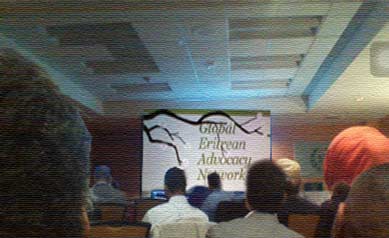 On December 26-27, 2015, an Eritrean conference was convened in Cypress, California. The two-day conference was the first public event that the Global Eritrean Advocacy Network (GEAN) organized after "extensive deliberations and consultations with many Eritrean entities and individuals."
According to a press release sent to Gedab News, the two-day conference was organized "on the premise for the need of political engagement of Eritrean Muslims in the Diaspora."
The press release also indicated that "GEAN identified five minimum topics around which a discourse ensued."
Eritreans activists, humanitarian groups, and professional attended the conference to explore ways to "identify and promote actionable items and solutions" for what GEAN considered its core principles.
Around 200 Eritreans attended the conference and discussed the topics of the conference in four workshops and submitted their recommendations to the organizers.
The conference listed actionable plans related to the following topics that it identified: 1) Eritrean refugees repatriation, 2) Expert discussion on land issues that should lead to a land proclamation, 3) Safeguarding the time-honored Eritrean social contract on Arabic and Tigrinya as co-official languages, and, 4) The promotion of dialogue among the diverse Eritrean social groups "toward the empowerment of each ethnic group in the future political process."
GEAN stated that it will soon announce the finding of the workshops regarding the above topics which it considers the core components of a minimum program around which Eritrean opposition alliances should be built.
The advocacy group came into existence to help strengthen the weak involvement of Eritrean Diaspora Muslims in the activities related to the struggle to help alleviate the dire situations in Eritrea.
Despite the existence of several Eritrean Muslim organizations in the diaspora, most are known to shun political involvement and for demotivating their members by discouraging them from being engaged. However, young Muslims are becoming more apprehensive of the older generation for not providing them with a platform to engage in Eritrean affairs and to be more aware about the situation in their ancestral country. They are apprehensive that they are finding surprise information about the current situation in Eritrea on their own when their parents and communities should have provided them with the proper context.
Though most parents discourage their children from getting involved in the Eritrean struggle with the pretext of helping them focus on their education, the result has been disastrous for the Eritrean Muslim activists whose ranks lack the involvement of the youth.
The interest of young Muslim Eritreans in their heritage and their ancestral homeland is visibly increasing among the college and university students who are generally conscious and involved in their local identity politics, awareness and advocacy.
The youth blame their parents for not providing them enough tools that would allow them to be positively engaged.
Diaspora Muslims, particularly the young, are more detached from Eritrean affairs relative to their Christian compatriots.