Colorful Characters: Aboy Shutuphouse and Abdelwasie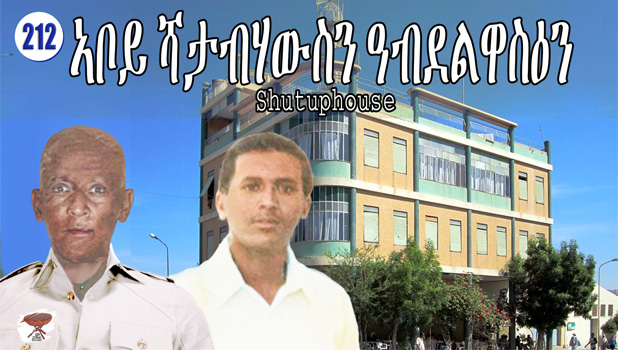 I had no shortage of wise, witty, and humorous people in my life. Such people are a blessing; they help us see life beyond the grim colors, in vivid technicolor. If you feel jealous, I will not blame you. I understand.
That's why I hope someday I will be able to produce and share their wise and humorous stories with the world; the stories could be many episodes long, more than any sequel you ever watched. If any of you is connected to Netflix, or any other production house, you would do me a great favor by pitching the idea to them.
Today I will remember two such character: the late Aboy, and the late Abdulwasie Musa Hagos who died last week in Melbourne,
Shutuphouse' real name is Iyasu, and he was a friend of my father. Aboy Shutuphouse was an icon of Keren; anyone who never met him from my generation, has missed a lot.
Abdulwasie was a relative and a friend, though older than me by a negligeable number of years. He grew up in Mensura and Akurdet and later came to Keren where he attended secondary school.
My father and his friends spent their afternoons under a Neem tree between my father's shop and Aboy Giorgio watch repair shop. Then there was Gebremeskel Cicilista who rented and repaired bicycles, then there was Saleh Werie's teashop. In later years Mahmoud Assenay opened a hardware store on the corner of the block. Across from the Neem tree, there was Salim Quthmi's garment shop. He owned several shops in the street. Then there was Amaresh's bar, which used to be Gilay's barbershop, followed by Mohammed Haj Ali's restaurant; he is the brother of Ahmed Haj Ali, the ex-minister of mines who has been languishing in the PFDJ prisons for two decades. The restaurant used to be Abou Ricco's grain mill. Then there was Shemroukh's grocery store, which used to be Mr. Hixon's adult English language school in which many attended, including my father and Osman Srnji. On the other corner was Pharmacia Bruno, who never socialized. Across from it was Bar SenHit, which later the other Signor Bruno its owner sold it to Signor Antonio. Bruno moved to Asmara where he opened the Caravel Club. The old Senhit is now known as Enda Aregay. On the narrow alley was a carpenter workshop run by the brothers Mahmoud Srnji and Osman Srnji ….
I can't mention all the names, this episode would not be enough.
Osman Srnji was the smartest man I knew in the entire town. He used to repeat, "Adarshu sefi new, beru alTebebe, slemn and-band tegebalatchu?" The only Amharic he memorized. I can't remember all the lessons of life he taught me. I owe most of my childhood general knowledge to him. He was smart, but when it comes to quick wit, Aboy Shutuphouse was heads and shoulders above all.
Aboy Iyasu repeats "Shutuphouse" in every sentence he utters—'Saleh, weddey, Shutuphouse Shahi azizelna eska. Saleh Werie, Shutuphouse qelTf belo.' Growing up, I didn't question what Shutuphouse meant, I felt it was his nick, everyone had a nick. But then I learned how in the English and American talking culture the profane word Fu** is inserted in every sentence. That's how Aboy Iyasu used it. I remember him whenever I hear anyone uttering the profane word. Shutuphouse was more houmous, civilized, and decent than all the civilized profane people. Even the Italians have a similar profane word; they repeat, Che Caz*. If Aboy Shutuphouse was the president of the USA, he would have convinced the Congress to pass a law banning profanity. If he was the president of Eritrea, where there is no legislative body, he would have proclaimed a year of jail-time for any profane person.
I met Aboy Iyasu in 1991 in Asmara and we went to Keren together in Tekhle Misghina's car; he passed away a while ago. May he rest in Peace.
Abdulwasie was funny, and thoughtful. And behind his funny character was a smart and caring person. I last met him ten years ago when I visited Melbourne; he passed away last week. May he rest in peace.
While in Keren, growing up under curfew, we spend many evenings chatting behind the gates the elders put at the entry of our alley. We peeked through the holes in the door and watched as the Commandos and Tor Serawit threatened and humiliated the people caught a minute after the 6 pm curfew.
Sitting in the alley one night, we heard the rumor of a plane flying high in the sky, and we could see the twinkling light it omitted. Then we talked about air travel, and Abdulwasie wondered, 'these people sitting inside it are either crazy or brave.' I reminded him that one day he might travel in a plane. He was surprised, 'Tetselilka, wellahi wela million-dollar entezehbuni aydyeban, Ab bermil atye ab mongo semayn mdrn, tetselilka?'
Years later I met Abdulwasie in Bagdad and jokingly asked him if he walked all the way to Baghdad or flew in an airplane. We laughed about it. Some years later, I met him in Saudi Arabia, and I recounted the story at a group dinner. He spiced the story and recounted it hilariously. When I met him in Melbourne ten years ago, he begged me not to repeat it since he couldn't image how else he could have arrived in Melbourne if not on a plane, 'Australia is the end of the world,' he said. I wanted to get him going, 'maybe you would have come on a ship.'
Immediately he reacted as if I told him to be ready for the gallows! Exactly like he rejected the idea of travelling in a plane years ago, he said, 'Tetselilka! Have you seen how big the oceans are, and you think I would have come on a ship sailing for weeks on the Indian ocean or the Pacific Ocean?' He added, 'I will not say never, who knows, maybe one day I might travel on a ship.'
I don't think Abdulwasie knew Aboy Shutuphouse much, but he knew enough about him. At one time I adopted the Shutuphouse term and soon Abdulwasie did the same; he surpassed me. Usually, he made fun of two words, Ebbbbe the Italian lamenting word which everyone repeated for reason or no reason, and Shutuphouse.
I have been thinking of making a Negarit episode about Aboy Shutuphouse—He is one of the major characters in is my book, Of Kings and Bandits. When I heard the sad news about Abdulwasie, I thought of eulogizing both lovely men from my past. May they rest in peace and may the spirits of their happy characters float over us forever.
Every time someone dies in exile, my rage increases and I curse the monstrous PFDJ. Every time someone passes away at home, I curse the PFDJ more for separating families, relatives, neighbors, and friends. If not for anything else, the PFDJ must be held responsible for causing all the social disconnect, the agonies, the painful nostalgia, and the inhumanity we are all suffering from. One day that will come true, and they will pay for it. And every death or separation must add to our resolve to remove the stains of cruelty from Eritrea.
"Shutuphouse Janhoi pulled a joke on Israel; he told them he is the son of Solomon, and they think he is a Jew." Shutuphouse said laughingly.
"And I am the son of Adam and Eve," Srnji replied.
"Adam is not a king of any country, and he cannot give you a commandos force," Shutuphouse disappointed Srnji.
Just then, Srnji saw a commandos soldier enter Gebremeskel shop to rent a bicycle. Gebremeskel refused renting him because he didn't know how to ride a bicycle. The soldier left in disappointment cursing. And Srnji wouldn't miss such an opportunity to make fun of the commandos.
"Gebremeskel, why don't you rent mules instead, the commandos would be your customers!" he pretended he was serious, "There. The product of Israel and America would be happy," he added.
"Shutuphouse the mule idea is good, mules riding Shutuphouse mules would be fun to watch," Shutuphouse shook laughing at his own joke.
Giorgio was apprehensive, "Mules are better than bicycles. Men should learn horse riding from early age."
"Giorgio, this is not the age of Spartacus!" Srnji snapped.
"It's not. But still, boys should fall and rise u, get bruises, and bloodied. It makes them strong men… but bicycles…, ehhh".
"All right Giorgio, get me horses and Mules and I will rent them instead of bicycles," Gebremeskel joked, "I will transform this shop into a stalla, a stable!"