Celebrating Dr Saeed Forma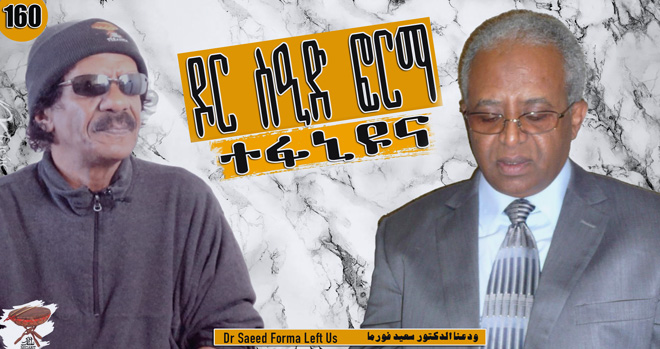 The last time I eulogized my friend Mebrahtu, I didn't think I will do another one for a while. But life is such that we cannot predict who leaves next, or when. Yet, we do not stop taking life for granted, especially with our loved ones, or ourselves. But unexpectedly death strikes and reminds us it is always hovering over our heads–the clouds we see could be carrying storms, light showers, or, the shy could be a clear with a bright sunshine. But all the time, death is lurking up there, maybe on the side, or under the ground we so confidently walk on. And it strikes silently, leaving us in wailing, sadness, and reckoning. Time is short; life is but a sweeping experience that could end anytime.
Being young is a blessing though it doesn't last. Every day that passes, we get closer to that inevitable, despicable day when death arrives. And that is why we do not have to take life for granted.
Recently, one of the elders of our community left us: Mohammed Ahmed, the calm and always smiling man I knew for almost twenty years. I don't remember him but with a smiling face. Though we held two different political positions, he never allowed our views to cloud the human and social relations. I wish all those who hold different views were like him; if they were, we wouldn't be in this situation of disarray.
Every time we met, he made a jab at me, and I could not help but laugh because it was deep and intelligent, forcing a smile on anyone. Sometimes I failed to match his jokes, but I always tried to reciprocate in kind–that was a ritual among us. I didn't even hear Mohammed was ill; suddenly I heard of his death. Last Thursday we buried him. And despite the Covid restrictions, the turnout of people who came to bid him farewell, was huge. We laid him down and I lost a man who used to make me feel good about the metal from which our people are made. AllaH yerHamu.
Saeed Forma was the next one to leave us. I called him several times but couldn't get hold of him. Last Tuesday, I talked to my brother Abdalla, and I told him Forma was not replying. He told me "I just talked to him… he just entered the operation room, he said he will call after he is done with the operation, he said it was a minor one." I thought, Forma is a doctor and if he says it is a minor thing, it must be so. Then I bid Abdalla good night and hanged up. Two minutes later my wife came to the sitting room with an ashen face. She just spoke with my sister who told her Doctor Saeed has died. I failed to understand how the minor operation turned into death in a few seconds! The news hit me like a bolt. My tears flowed and I felt miserable. An hour later we began to drive to Southern California arriving there at 3 am.
The sun doesn't stop making its rounds for anything and soon morning broke. But that was a morning Saeed Forma didn't see since I knew him, ages ago. A brother, a friend, and the coolest doctor I ever knew.
We were accustomed to calling him Saeed Forma; and he didn't care about the Doctor title. He was unlike the  many who have modest training but make sure to remind anyone they met about their achievements. Sometimes I felt it was unfair and called him Ya Dektor… But he was indifferent to it.
The cool doctor, my brother, and friend, moved on. However, he left a fine team made up of his children and wife. And a fine team of siblings who were an example of cooperation and dignity. He left a big family of relatives, friends, colleagues, and community who respected him.
The spontaneous eulogies at the mosque, the funeral, and the wake were what Saeed earned. He was a peaceful man who avoided altercations and confrontation. He didn't even know a casual gossip, a human characteristic.
Saeed graduated from Egypt as a medical doctor, but getting licensed in the USA was not an easy feat. However, with his wife on his side, he toiled for a long time and made it. Still, he remained a humble person.
In our culture we are trained from childhood not to boast about our charitable deeds; we learn boasting spoils the idea. And what I heard from his colleagues and community leaders in the region is just a confirmation that he lived a life with no showoff. There were testimonies from many who mentioned his generosity and his contributions to charitable deeds, in cash and kind. But he never boasted about  that.
Now, the children he left behind are men in their own rights. I am consoled they will replace the humble presence of their father… with the same demeanor, with the same kindness, and with the same love he spread wherever he went. To his wife Jemeela, I would like to say, as a mortal, Saeed left us. Get solace in the fact that he left you five fine men. He left you with a tightly knit family of siblings and friends. He left you with a strong community. Cherish his memories and celebrate the good and pious life he lived.
The last two funerals showed me that the two years of life under Covid took its toll on many of us. Time has gone by fast. Socialization is all in tatters. However, in South California I saw something promising. Those we watched as children have grown up, almost unnoticed. We were oblivious to the daily change they were going through—fine men and women, some married with children, other on the verge, or planning for it.
Meeting the young showed me how popular Saeed was among our young. Almost as if reading from a script, they repeated, "Uncle Saeed was not judgmental!" Yes, I know, and now I confirmed they do not fancy endless lecturing, reprimanding, and nitpicking. We were there and now they are there, walking were we walked, passing through what we passed in our wild years.
What an occasion! Even though the heart is wrapped in sadness, the occasion encapsulated the life of Dr. Saeed and we celebrated it with pride and gratitude. There! The young have one good example to emulate: kindness, truthfulness, loyalty, humility, and compassion. And Death is Sunnet AlHayat,  inevitable and doesn't stop for anything. And because of Saeed's funeral, I connected with many of the young, and I am happy with what is saw.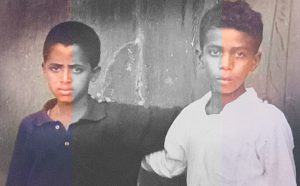 Here is the picture of me and Saeed when we were nine or ten years old. We didn't have colored pictured then, but since my memories are mostly in black and white, I was curious to know how we looked in color and had to colorize it. And that's a memory I will cherish forever. However, here I would like to testify. I have many mischievous experiences in my life, but not Saeed. His character remained unchanged from the time the picture was taken in Keren, to the day he left us in Southern California.
May Allah bless his family and compensate Saeed for his good deeds, for a life he didn't waste in vain, for a life he lived with dedication and piety. Goodbye my brother. Goodbye my friend. Goodbye Saeed Forma.