Adem Melekin: Eulogy To A Patriot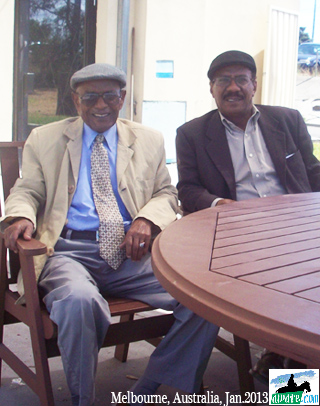 About eight years ago, I interviewed a man many, including myself, consider a giant in the struggle for Eritrean independence. This is what I wrote in the introduction to the interview that was published on April 11, 2005:[i]
Some people find themselves in a storm and struggle to get out; others search for a storm and get into it knowingly. Eritrea's history is full of both kinds of people; this column, the Fertile Womb, celebrates Eritreans who volunteered themselves for the sake of the people. They pushed a wheel and the train started to move on- it continued to move on, consuming lives, witnessing sacrifices, recording bravery and creating heroes, until it arrived at its final destination in 1991, with the gallant fighters of the Eritrean liberation forces entering Asmara victoriously. Eritrea entered into the unknown era under a liberation organization and the struggle was renewed, this time for the dignity of the citizen, the acknowledgement of past sacrifices and for the establishment of a just, free, prosperous and democratic society. Many of those who helped initiate the struggle, Eritreans now in their 70s, are dying off, many in exile and with them their unrecorded histories, forever lost. This, then, is the story of one man, a patriot, a breathing history, a brick in the foundation of Eritrea: Adem Melekin.
Today, I write this edition to mourn Adem Melekin (affectionately known as Am, or uncle, Adem) whose body was buried in Australia today (Friday morning May 17, 2013). Yes, the man I called "a brick in the foundation of Eritrea" has died in Melbourne, Australia. Today, one of the pages of our history is turned, leaving behind memories and distinct examples of toil and dedication for the sake of Eritrea.
Adam Melekin died expressing his love for Eritrea, even as he breathed his last breath. Eritrea lost one of its fathers; the Eritrean community in Australia lost one of its towering figures. It lost a face that a smile never left.
Looking back at the prospects for Eritrea, I would like to present to you what Am Melekin told me when I interviewed him in 2005.
"Change, should come from inside Eritrea, even if that requires imprisonment and death. People should defy and struggle…If one wants to achieve political gains, then it should be by targeting the senior heads of the system, from inside Eritrea and not an all-out military confrontation from the outside."
Qtestion: But why isn't there defiance inside Eritrea?
"Most of the officers – I have talked to many of them while in Eritrea- have spent decades in the struggle and upon the independence of Eritrea, they arrived penniless and without a skill. With meager resources, some managed to establish a home. Now, they have families and children and they are not willing to spend what is left of their lives on another struggle. They complain that their lives were wasted and they have no guarantees for their living. Does the opposition have guarantees, financial and security guarantees, for these people so that they can do something?"[ii]
I saw Am Melekin for the last time in January 2013 and we parted hoping to meet again, "You have to come again to Australia, there is a lot I want to talk to you about," he told me. Now I feel guilty, I should have spent more time with him; I had no idea he would leave this soon… Am Melekin was 85 years old, but he looked much younger than his age. His healthy looks, jolly personality and attitude cheated me into believing he will live longer, I thought he would cheat death for a long time. He didn't. When the time comes, there is no escape. But again, when the time comes, those who leave behind them a clean history stay alive in the memories of their people. Am Adem Melekin lives forever.
Am Adem was "old-school". Old school in his attire, his spirit and easygoing personality. Elegant, smiling and superb conversationalist. He doesn't say a word until he infects those who meet him with his smile. Once you relax and smile, he starts to talk. The two times I met him in town, and the one last time I sat with him for a long time at a wedding party, were invaluable to me, and I wish I had more of that. Unfortunately, that was not meant to be. The son of Halhal died in Australia; that has become the fate of Eritreans. May Allah reward him for his sacrifice.
My condolences to his family, particularly to his son Salah, my childhood friend. My condolences to the Eritrean Australian community for the great loss. May what we all miss in Am Adem be carried on in the character of the elders of Melbourne. May his spirit of patriotism dwell in all of us.
For a glimpse of the late Adem Melekin's history, please see the entire interview on the links below.