Two Heroes, Same Gene, Same Strain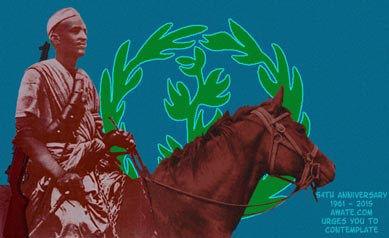 Awate the initiator, Awate the continuation, congratulation!
Awate, the man who gave birth to a nation
Awate, the website which inspired the population
Awate, two heroes, the same gene, the same strain
Awate, the Founder shot first from his old "Brein"
Awate, on the web roared like a lion once again
Awates, stood fast and held the torch aflame
This and the original Awate are just the same

Awate, the man with wisdom and foresight
Awate, the courageous and truthful website
Awate, the former and the latter are destined to lead and fight
Awate, the both are cut out to guide and shine bright
Awate, the both are courageous indeed and know not fright
Awate, the both refuse to sit idle, arms crossed and lips tight
When injustice is rampant and evil must be fought with might

Awate, the embryo, the thought, the reason
Awate, the man who crafted a beautiful nation
Awate, his namesake, the website with clear vision
Awate, the struggle, the disciples in the noble mission
Awate, the beginning awaiting a touch for completion
Awate, whose dream is begging us its culmination
Awate on the web is fulfilling it with determination

Awate, the immortal symbol of our nation
Awate, who valiantly confronted subjugation
Awate, who said no to slavery, disguised Unification
Awate, a will made of steel – an impeccable volition
Awate, aspiring soul who sparked a people's revolution
Awate, who fought for freedom against domination
Awate, is still alive and multiplied in duplication

Awate, our clarion clear voice with no hesitation
Awate, empowerment, entertainment and education
Awate, declares it again no to slavery and exclusion
Awate says it again no hegemony and marginalization
Awate, heroism and valour in perpetual progression

Awate, who chose freedom and rejected submission
Awate, who set our victorious train in motion
Awate, embolden, sharpen your pen and shoot with precision
Awate, carry the burden, a heavy legacy, a glorious mission!

Awate, happy birthday Awate, congratulation!
Awate, the struggle 54 and 15 for Awate the institution
Awate, let there be light, keep on the illumination


Awate, kindle the candles with joy in jubilation
Awate, spark, enlighten the brains with no desperation
Awate, continue fighting tyranny and aggression
Awate, keep on marching toward the destination
Awate, long is the road of justice and inclusion
Awate, never give up – victory is a done deal conclusion
Awate the initiator, Awate the continuation, congratulation!
Awate, congratulation! Congratulation Oh! Awate, congratulation!