Eritreans Demonstrate In Front of Israeli Embassies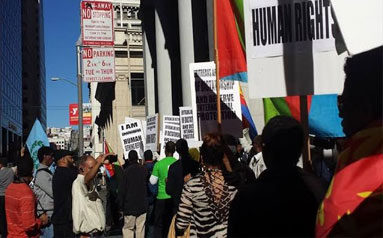 Eritreans in major cities around the world demonstrated today in front of Israeli embassies and consulates on behalf of all African refugees and asylum seekers.
According to one of the organizers, "the demonstration was a grassroots movement that began with an idea to bring awareness of the plight of our people in Tel Aviv." She added, "the demonstrators in the U.S. delivered a demand letter from the refugees and asylum seekers to the Israeli embassies and consulates."
In San Francisco, Freedom4Refugees, an Israeli human rights group urged the public for a mass demonstrations on January 22nd in solidarity with asylum seekers in Israel.
Below is the press release issued by the organizers of the demonstration.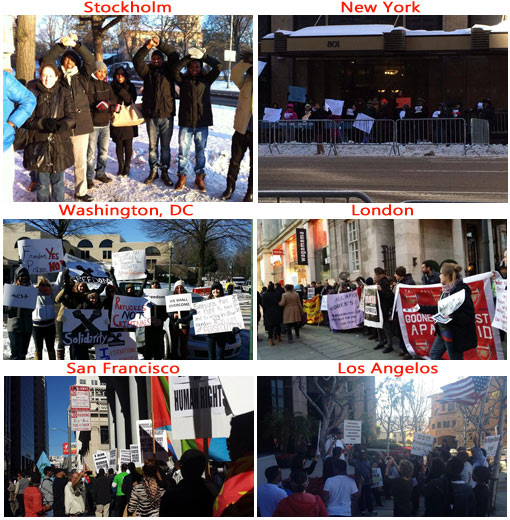 ___________________________________________________________________

For Immediate Release
January 22, 2014

Contacts:
Elinor Tesfamariam
National Eritreans in Diaspora Spokesperson for Asylum Seeker Rights in Israel:
Ph.703-677-2143, Elinor2006@gmail.com

Sefora Estifanos
National Eritreans in Diaspora Spokesperson for Asylum Seeker Rights in Israel:
Ph. 646-420-6860, Sefora113@hotmail.com

Fakiri Taha
National Sudanese in Diaspora Spokesperson for Asylum Seeker Rights in Israel:
Ph.703-499-3314, fakiritaha@yahoo.com

Thousands of African Activists Demonstrate at Israeli Embassies and Consulates Demanding Israel Respect the Rights of Refugees and Asylum Seekers

North American and European Demonstrations Join in Solidarity with Tens of Thousands of African Asylum Seekers in Israel Protesting New Indefinite Detention Policy   

 Washington, DC, January 22, 2014– Joining in solidarity with African refugees and asylum seekers in Israel, several Diaspora Eritreans and Sudanese demonstrated today outside of Israeli embassies in Washington, London, Berlin, and Stockholm, as well as Israeli consulates in New York, Boston, San Francisco, and Toronto. The global protests are in response to the Israeli government's widespread arrest and indefinite detention of refugees and asylum seekers under the amendment to the Anti-Infiltration Law of 1954.

"These are refugees and asylum seekers who are entitled to protection. The amendments to the Anti-Infiltration Law are in violation of international law," said Elinor K. Tesfamariam, Attorney with Plenpovo Law in Washington, DC.

"Branding refugees as infiltrators, subjecting them to official discrimination and humiliation, meting out to them physical violence in the streets, and locking them away in the middle of a desert is a travesty of international norms – to put it mildly. Whereas empathy toward the refugees (many of whom are victims of human trafficking) is the least one expects from the Israeli people, the State of Israel has to abide by its obligations under the 1951 Refugee Convention and relevant protocols that it is signatory to. The first step would be for the Israeli government to recognize the displaced persons for what they are: refugees deserving the protections stipulated in the 1951 Convention, the 1967 Protocol, and subsequent United Nations resolutions. The international community – especially UNHCR – would also have to play its part to care for the refugees and accord them the treatment that they deserve as human beings." stated Dr. Awet Woldemichael, professor of history at University of Kentucky.

"On behalf of the African refugees and asylum seekers, we are calling on the Israeli government to implement a functional, fair, and transparent Refugee Status Determination procedure that allows for each individual to apply for asylum and provides protection and support for refugees."

Today's international protests follow a series of growing peaceful demonstrations by African refugees and asylum seekers in Israel following the Israeli Knesset passage of the amendment to the Anti-Infiltration Law of 1954 on December 10, 2013.

When the amendment came into effect on December 12, 2013, hundreds of African detainees were transferred to a fenced-in "open facility" in a relatively isolated area of Holot Halutza in the Negev desert. The inspectors from the Population, Immigration Boarder Authority then began widespread arrests of asylum seekers and have summoned more than a thousand people to report to the Holot internment camp.

According to the law, these individuals are required to report in three times a day and locked in at night to prevent work or flight. There are no limit on the length of residence so detainees can be held indefinitely without trial.

There are approximately 53,000 asylum seekers in Israel. Most of these individuals are from Eritrea and Sudan from which they fled because of persecution, repressive regimes, conflict, or forced conscription.

Tens of thousands of these refugees and asylum seekers were kidnapped, tortured, and held for ransom by human traffickers in the Sinai desert before they secured their freedom and made it to Israel.

Earlier this month, the UN Refugee Agency (UNHCR) issued a statement about the African asylum seekers in Israel saying: "in light of their countries of origin, the majority are either refugees in the sense of the 1951 Refugee Convention or, at the very least, in need of international protection and cannot be returned to their home country." UNHCR said that Israel should allow asylum seekers proper access to "refugee status determination (RSD), irrespective of the location of their residence in Israel. At this stage, only a small number have gone through the RSD process while the majority – particularly Eritreans and Sudanese outside detention – were granted an imperfect form of temporary protection. It is important to note that asylum-seekers from Eritrea and Sudan show high recognition rates in other countries (in Europe, the recognition rates are more than 70%)." Israel's refugee status recognition rate is approximately 0.15%."

"Sudanese refugees are extremely grateful that the international Jewish community has stood with us against genocide, violence and repression in our country," said Fatiri Taha. "The situation in Sudan has not changed. Our Sudanese brothers and sisters in Israel are refugees and desperately need the Jewish state to compassionately provide protection."

Local Protest Contacts:

Washington, DC: Seghen Simon. 301.461.1001 seghensimon@gmail.com
New York: Fnot Gebre. 202.487.3107 fnot.gebre@gmail.com


Los Angeles: Daniel Mirrach. 323.822.8670 danielmirrach@yahoo.com
San Francisco: Asennai Musye. 415.741.9811 asennaim@gmail.com
Boston: Azieb Teclemichael. 215.888.7491 azeb25@msn.com